Anton Dzyatkovskiy, a Co-Founder of Platinum LLC, takes a look at the differences between ICO and IEO, reasoning why the latter is the most efficient method of fundraising.
None of the most significant inventions were created instantaneously – they required a network of dedicated professionals and thousands of hours of research and development.
Have you ever thought about how the first airplane was created? Did the Wright brothers just come up with the perfect measurements by their own? Of course not! They should have done tens if not hundreds of experiments before selecting the best-fitted sizes of both the wings and propeller.
Mistakes are an integral component of learning. The same thing happened with fundraising in the crypto industry – first, there was the wheel in form of Initial Coin Offerings, then the car was invented in form of Security Token Offerings and now it is time for airplanes in form of Initial Exchange Offerings. Experts from Platinum explain the difference between them and why IEO is the most efficient method of fundraising.
Are ICO and IEO the Same Thing?
The year 2018 became crucial for both the enterprise and cryptocurrency sides of the blockchain industry. On the one hand, it proved that blockchain technology is here to stay and be implemented almost universally.
It is a pretty strong statement that should be aligned with deeds, that is why it is worth mentioning that just within the United States over 1,000 patents have been published related to digital currency standards, digital currency exchanges, blockchain algorithms and infrastructure, etc.
On the following image, you can see the top companies aiming to use blockchain technology shortly.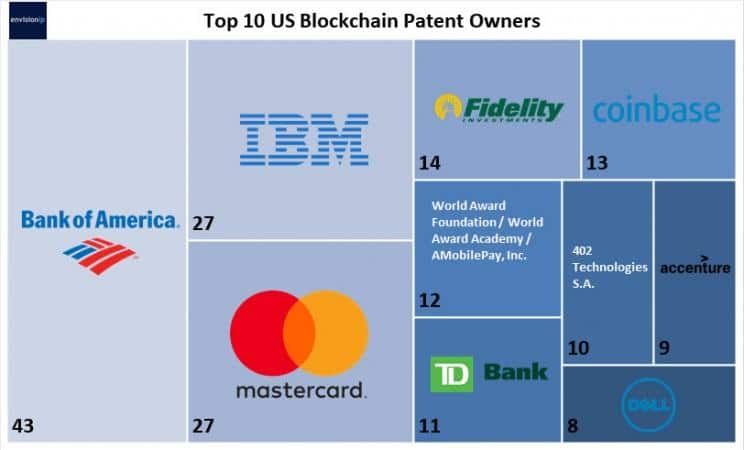 On the other hand, crypto startups began working on developing MVPs, pilots or even on employing their technology in everyday life or at least on the actual use cases such as trade finance, supply chain, and many others.
However, the most crucial change was a substantial decrease in the number of investments in ICO projects. One of the reasons can be contributed to an increased enforcement focus on crypto fundraising by the almighty SEC. As a result, people began talking about the imminent death of the ICO market. Well, you shouldn't believe all the gossips and rumors floating around. In reality, ICO transformed into STO and IEO just like a phoenix reborn from the ashes.
What is an Initial Exchange Offering (IEO)?
Put simply, the IEO is a form of an ICO with "a change in a genetic code". It is based on the ICO but has some additional features, such a safer way to play with the price of a coin as the offering is conducted on the local exchanges, in whose interest is to eliminate any possible risk of fraud.
To be more precise, an Initial Exchange Offering relies on having one or multiple exchanges act as the counterparty. The exchanges are supposed to create a platform where the pool of developers can mint and sell the tokens to individual contributors for a fiat currency or any other cryptocurrency.
Thus, IEO is an agreement between the developers and the cryptocurrency exchanges, with predetermined conditions, like the maximum and minimum contribution per individual and a fixed price per token.
The main difference between ICO and IEO is that in the latter case, investors do not have to send their Ethereum to a smart contract. Instead, they have to create an account on the platform where the IEO take place. The next step is to fund their exchange wallets with crypto and use those coins to purchase the fundraising company's digital currency.
It makes IEO mechanism immediately tradable, when in case if ICOs investors have to wait months to sell their "belongings". Also, the exchange is interested in actively marketing the tokens as it receives a percentage of the tokens sold during the offering.
Does it Actually Work?
That is the "deal-breaker" question, and there is no better way of checking whether something works then by looking at its level of adoption. Apparently, an increasing number of cryptocurrency exchanges began taking into consideration IEO fundraising method.
It has been actually pioneered by one of the biggest digital exchanges on the market – Binance, which not so long ago launched its very own IEO platform called Binance Launchpad. At the beginning of 2019, BitTorrent conducted a token sale on Binance Launchpad and was able to raise $7.2 million in just 15 minutes!
The second IEO of the Binance Launchpad went even better: Fetch.AI sold tokens for a total of $6 million in less than 25 seconds. This success could not but to intrigue and interest the rest of exchanges to do the same as soon as possible. As a result, the following IEO platforms emerged: Bitmax Launchpad, Bittrex IEO, Kucoin Spotlight, OK Jumpsta made by OKEx, and Huobi Prime.
One thing is for sure, IEO's are rapidly gaining momentum both between exchanges and investors. Besides some obvious reasons like higher levels of liquidity and safety, IEO's have another feature and is that anyone can become a participant. Whilst in case of Security Token Offerings only institutional and accredited investors can purchase tokens.
Why will IEO Replace ICO?
The main difference between these two concepts is that cryptocurrency exchanges select projects for IEO. Thus, it is in their interest to choose the most promising and reliable companies. On the other hand, crypto startups will able to save costs by tapping on the existing user base of the exchange.
Unlike ICO, IEO empowers security. Taking into account that crypto exchanges risk their reputation, they will not attempt to engage in petty scamming, phishing or fraud attempts. As you can only purchase tokens from the exchange, security is guaranteed, so contributors can be sure the smart contract will not be compromised.
Last but not least, IEO eliminates bad practices like price manipulation. Many of you may probably heard that once the token is listed on an exchange, almost instantaneously it experiences a massive sell-off as early investors want to liquidate their position and get a quick profit.
No surprise, it will take weeks if not months to recover from such a downward trend. In case of IEO, projects are protected as their coins get listed on an exchange directly, thus, a small number of investors benefit at the expense of a large number of retail investors.
According to Binance:
"After listing on an exchange, if the price goes up, then a small number of people would have made far more profit than the rest. If the price goes down, that means the small number of holders are selling heavily (potentially taking profit or stop-loss), and all the new investors (buyers) are at a loss."
How to Form Part of an IEO?
If in case of ICO investor can send directly their crypto to the projects, IEO participants first have to sign up for an account on the exchange, whitelist and go through Know Your Customer procedure. But before that, it is highly recommended to check if the project he or she intends to invest in is actually conducting an IEO.
Don't forget to check what cryptocurrencies will be accepted during the IEO and send the amount you plan to invest to your account.
However, the passage of KYC and the availability of a sufficient amount for investment are not yet a guarantee of success. Demand exceeds supply and not all investors manage to invest in promising projects. Finally, if you are the lucky one, all you have to do is to wait for the start of the IEO and buy tokens. Author:

Anton Dzyatkovskiy
Anton Dzyatkovskiy is a Co-Founder of Platinum LLC, entrepreneur, negotiator. He is passionate and hardworking business leader with more than 13 years of experience in different positions within FinTech, Retail, and E-Commerce. Experienced in expanding financial businesses to totally new markets.
Subscribe to our telegram channel.
Join