The best way to invest in the booming metaverse is to purchase metaverse tokens, in-game assets, and virtual real estate. Read on to find out more.
A report published by JPMorgan earlier this year predicts that "the metaverse will likely infiltrate every sector in some way in the coming years, with the market opportunity estimated at over $1 trillion in yearly revenues". Prominent brands have already marked their entry into the metaverse, including JPMorgan, Walmart, Nike, Gap, Verizon, Hulu, PWC, Adidas, and Atari, to name a few.
That leaves us wondering if the metaverse investment opportunities are limited to large enterprises and VCs. Surprisingly, it's not. Unlike Web2 platforms, you can profit from the growth of promising metaverse projects, whether you are an institutional or a retail investor. This is made possible by the blockchain base of emerging metaverse projects.
In this article, we discuss the best ways to invest in the metaverse and introduce you to three metaverse projects that have great growth potential.
How to Invest in Metaverse
The most budget-friendly method to invest in the metaverse is buying metaverse tokens. They recorded impressive growth last year with the spurt of interest in virtual worlds and Web3. Following that, we saw an influx of metaverse projects across various sectors like gaming, entertainment, and social media. Metaverse tokens serve as the utility currencies of the underlying ecosystems. For example, you need them to play games, access events, pay for experiences, and buy NFTs. Some projects grant voting rights to token holders as well.
NFTs are an important part of blockchain-based metaverse projects. For example, you need NFT avatars to access some metaverse platforms. Other in-game assets like weapons and attire are sold via NFT marketplaces. Even if you don't plan on using metaverse platforms, you can buy metaverse tokens and NFTs as a store of value. They accumulate significant returns with the growth of the project.
3 Metaverse Projects Ready to Explode
Pax.world – Top metaverse virtual estate to buy in 2022
Outlanders – Top gaming metaverse of 2022
3 Top Metaverse Investments of 2022: Reviewed
Kleks Academy – Best Metaverse NFTs to Buy This Year
If you're looking for a fun NFT collection with significant growth potential in 2022 and beyond, we recommend Kleks Academy. It is a collection of multi-D NFTs built around the adventures of Professor Kleks and his students. As the new Kleks Academy movies gear up for production, the NFT project brings the beloved series to the metaverse.
The Kleks Academy movie released in 1984 was an instant hit. The Kleks films saw an influx of over 30 million viewers in the 1980s. It remains a favorite among children and adults alike. The movie is being revived, under the helm of Director and Co-Producer Maciej Kawulski. He is also the co-founder of KSW and Open Mind Productions/Open Mind One. The new Kleks Academy movies are slated for release in 2023-25. The pre-production of the movies has already begun.
The founders of Kleks Academy NFT collection and metaverse believe that the universal values presented by the movie are relevant today, as they have been for the last 80 years. However, they add new elements to the movie to make it appealing to the new audience. What better way to do this than with the trending NFT and metaverse integrations!
Kleks Academy Multi-D NFTs have six sides, each of which features a graphic or piece of information. They are rediscovered six times in total, as a new side is revealed every three months. During the quarterly rediscovery, you also get to learn the new rarity traits and benefits of the NFTs. Listed below are some of the key benefits that come with the multi-D NFTs:
Holders receive a daily amount of 5 FRECKLE$ for five years. FRECKLE$ is the utility token of the Kleks Academy ecosystem. In the future, Kleks Academy Members can create their own new multi-D NFTs using the tokens.
Bonus release of FRECKLE$.
Unique Augmented Reality experiences which allow holders to interact with the new Kleks Academy film.
The NFTs unlock the magic of the Kleks Academy Metaverse.
Access to a special weekly mini-documentary from the film set. It is exclusively built for Academy Members.
Recorded custom greeting from one of the Kleks Academy characters.
Apart from these, there are extra benefits attached to specific multi-D NFTs. Let's take a look at them.
A speaking role in a custom scene shot exclusively for the multi-D NFT owner.
An actual role in one of the two films (as an extra).
Access to physically visit the film set and meet the actors and crew during production.
A chance to own real-life props and costumes used during the film production.
The project also has plans to launch an augmented reality app and a metaverse rich with games and challenges designed around the Kleks Academy film storyline and characters. And there are more potential developments embedded into the project. Check them out on the official website.
Pax.world – Top Metaverse Virtual Estate to Buy in 2022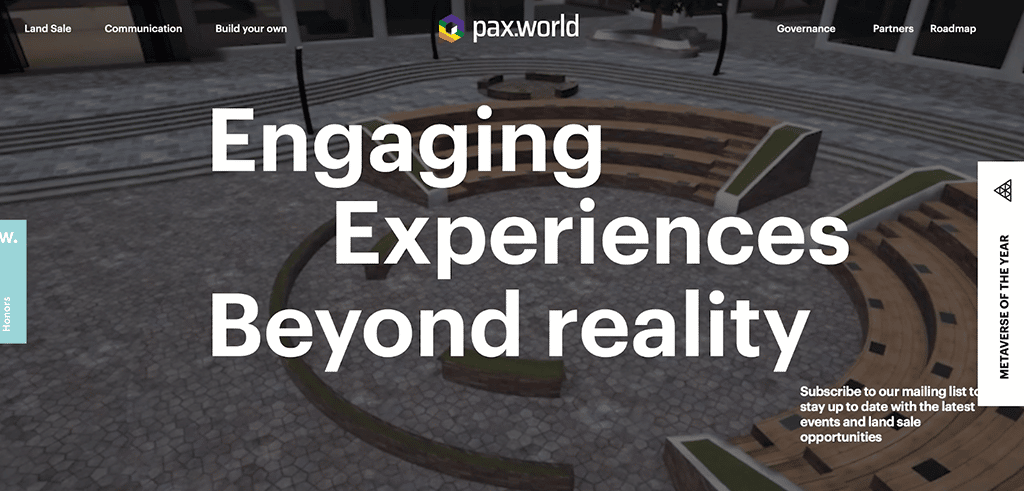 Metaverse is the next-gen internet characterized by immersive experiences. And Pax.world is all about bringing that alive. The project is creating a hyper-personalized virtual world that features high-end audio, video, and chat integrations. It allows you to mint life-like avatars using features like 3D facial scanning, explore a heterogeneous virtual world, and trade NFTs. All transactions on Pax.world are carried out in $PAXW, the native token of the ecosystem. It facilitates the monetization of virtual content creation.
Pax.world uses Unity 3D game engine to feature 3D life-like avatars, low hardware requirements, HD video, and audio broadcasting. The goal is to bring everyday users to the metaverse through rich and interactive experiences. The performance-optimized virtual world will be a hub for socialization, education, and commerce.
For example, you can publish your creations in metaverse art galleries and auction them to fans. While the artworks are tokenized as NFTs, the payments are carried out using blockchain technology. The 3D environment will offer a global interactive experience from the comfort of your couch. If you're wondering how to invest in the metaverse, Pax.world has 20,000 parcels ready for sale. Among these, 4,000 parcels will be released before the launch of pax.world in the third quarter of 2022. If you can't afford the metaverse real estate, you can opt for $PAXW metaverse tokens instead. The IDO and IEO of $PAXW are scheduled for July 2022.
Outlanders – Top Gaming Metaverse of 2022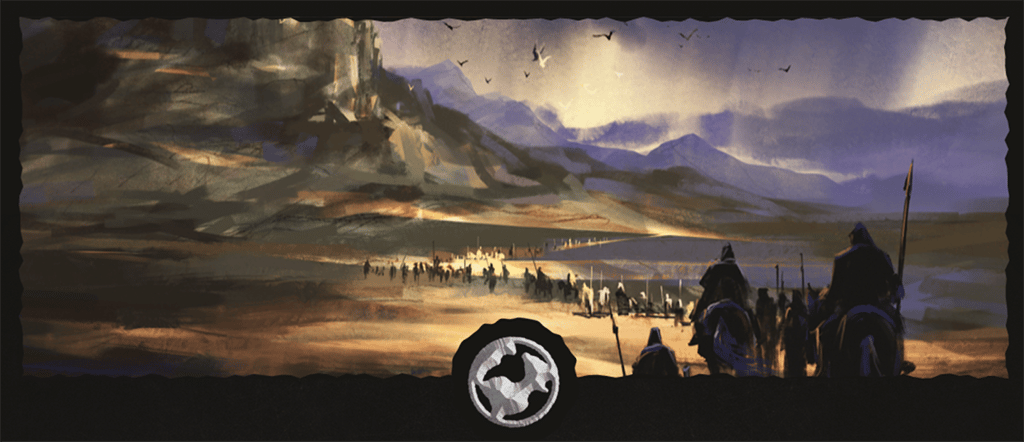 Next on our list is Outlanders, an adventure-based game that promises a gaming experience nothing short of what you are used to. Here, you combat monsters and other vicious creatures for territorial supremacy in gripping gameplay.
The key aspect that drew us to Outlanders is accessibility. Currently, Web3 gaming platforms have a high barrier to entry. You need to be well-versed with crypto terminologies and technicalities if you need to play these games.
Outlanders, on the other hand, is built for both crypto-native and non-crypto gamers. Even if you don't have any prior knowledge about Web3, you can play the game. You need not hold NFTs or tokens to enter the platform, either. As long as you have an active internet connection and a digital device, you are good to go. The flexible entry requirement goes a long way in bringing traditional gamers to the metaverse.
Upon entry, you will get the clothes and weapons you need to get started. Interestingly, the in-game assets don't have value initially. You add value to them by flaunting your skills and gameplay. Later on, you can sell them in the NFT marketplace to other players or investors. If you're planning to invest in Outlanders, this is one way to go about it. Or, you can buy the in-game token of the platform.
Another interesting feature of the metaverse is its move-to-earn integrations that reward you for physical activities. Your movements are tracked by a health-based application and converted to in-game assets and rewards. In fact, Outlanders claims to be the first MMORPG with move-to-earn integrations. Outlanders is built using Unity and WebGL.
Wrapping Up
Crypto tokens and NFTs are the easiest way into emerging metaverse projects. As we close in on the virtual world that brings together physical and digital realities, they prove their value as great investments.
We introduced you to three promising metaverse investments that feature unique value propositions. They have impressive growth potential if they successfully realize their white paper goals. Among these, our favorite is Kleks Academy – a first-of-its-kind limited collection of Multi-D NFTs that double as your tickets to the Kleks Academy augmented reality app, metaverse, and film production process.
The project takes us through a magical world of creativity and imagination, reinventing the film experience with the latest technologies. The movie's large fan base and the project's creative vision make Kleks Academy NFTs one of the best metaverse investments of this year.

Please check out latest news, expert comments and industry insights from Coinspeaker's contributors.