The number of NFT sales across marketplaces has also significantly dropped in the past few days to approximately 16,149 sales reported on April 19.
The Non-Fungible Tokens (NFT) market recorded tremendous progress fueled by the DeFi boom in the past few years. The growth of  GameFi and the Metaverse market has significantly boosted the NFT market, which was previously locked to digital art collectors. Since the Beeple NFT sale worth $69 million more than two years ago, there have emerged dozens of other talented artists, and startups interested in the market.
As a result, the NFT industry grew to a billion dollars despite the 2022 crypto bear market. However, the significant gains made in the NFT market could be fast draining amid the meme coins boom.
The Demise of the NFT Market
According to aggregate market data provided by the Dune dashboard, the number of unique addresses across top NFT marketplaces – including Blur, OpenSea, and LooksRare – has significantly declined over the past few days, down to approximately 7,805 unique users on April 19. Interestingly, this is the lowest number of unique NFT users recorded since July 2021.
Worth noting, the number of NFT sales across marketplaces has also significantly dropped in the past few days to approximately 16,149 sales reported on April 19.
The significant drop in NFT activity has been attributed to several factors including high gas fees amid a reduced appetite for digital collectables. Moreover, there are other profitable trades in the cryptocurrency market including emerging meme coins like $PEPE among others.
"Our thesis is that since there is a general decay in NFT users, it is most likely due to a macro scenario (such as high gas prices + tax payment liquidity issues) than to a change in the pattern of trading (such as, for example, a reduction of airdrop farming trading)," Sealounch, an NFT data and research centre, noted.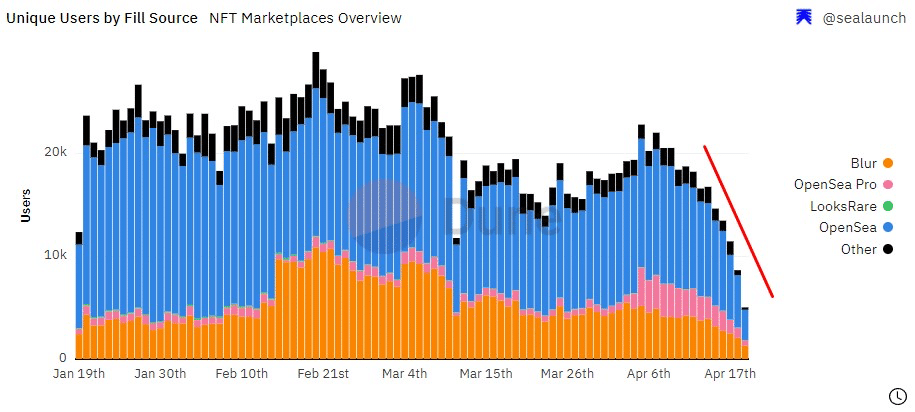 Reportedly, both heavy and small NFT traders have significantly dropped in the past few days. As a result, NFT marketplaces could struggle to stay afloat in the coming months as income revenues decline with shrinking traded volume.
4/ We analysed in the past the type of users of each NFT marketplace according to their trading in the NFT market.

Interestingly, all type of users (from heavy traders to "normal" nft traders) are decaying activity at same pace.

Source: https://t.co/ZSpTmGl9Qs pic.twitter.com/9Ca8RBPdbl

— sealaunch.xyz (@SeaLaunch_) April 20, 2023
Bigger Picture
The NFT industry has recorded a decline in innovation compared to other blockchain products. Nevertheless, the Ethereum network has managed to hold its position as an NFT hub with traded volume steady in the past 30 days. According to NFT data analyst on Twitter @hildobby_, digital art collectors are not pleased with high minting and trading gas fees.
"I think it's a combination of factors, but the biggest factors [in my opinion] are that not much interesting has been happening in NFTs lately and rapidly rising gas prices aren't helping," the analyst noted.