Blockchain infrastructure powerhouse Xunlei established a strategic partnership with global leading payment technology provider Newland Hi-Tech Group to provide trusted and efficient solutions for managing digital identity and online payments tackling cybercrime using blockchain.
Cybercrime has been on the rise with the rapid development and wide adoption of mobile payment and other new internet technologies. Lots of personal information is shared without awareness or even stolen easily by hackers. Identity theft is one of the typical cybercrime. Statistics show that every year nearly 10 million people's individual information was stolen in United States. According to the 2017 Norton Cyber Security Insights Report, cyber-criminals were responsible for incurring $172 billion worth of damages to 978 million consumers in 20 countries in 2017.
New types of crime should be prevented with new technologies. Blockchain technology offers an entirely new approach to storing information, processing transactions, and establishing trust, which makes it especially suitable for some critical industries and sectors that requires high security. The partnership leverages Xunlei's world-leading blockchain technology and infrastructure ThunderChain with Newland's deep expertise in payments and big data to enhance digital experience for citizens.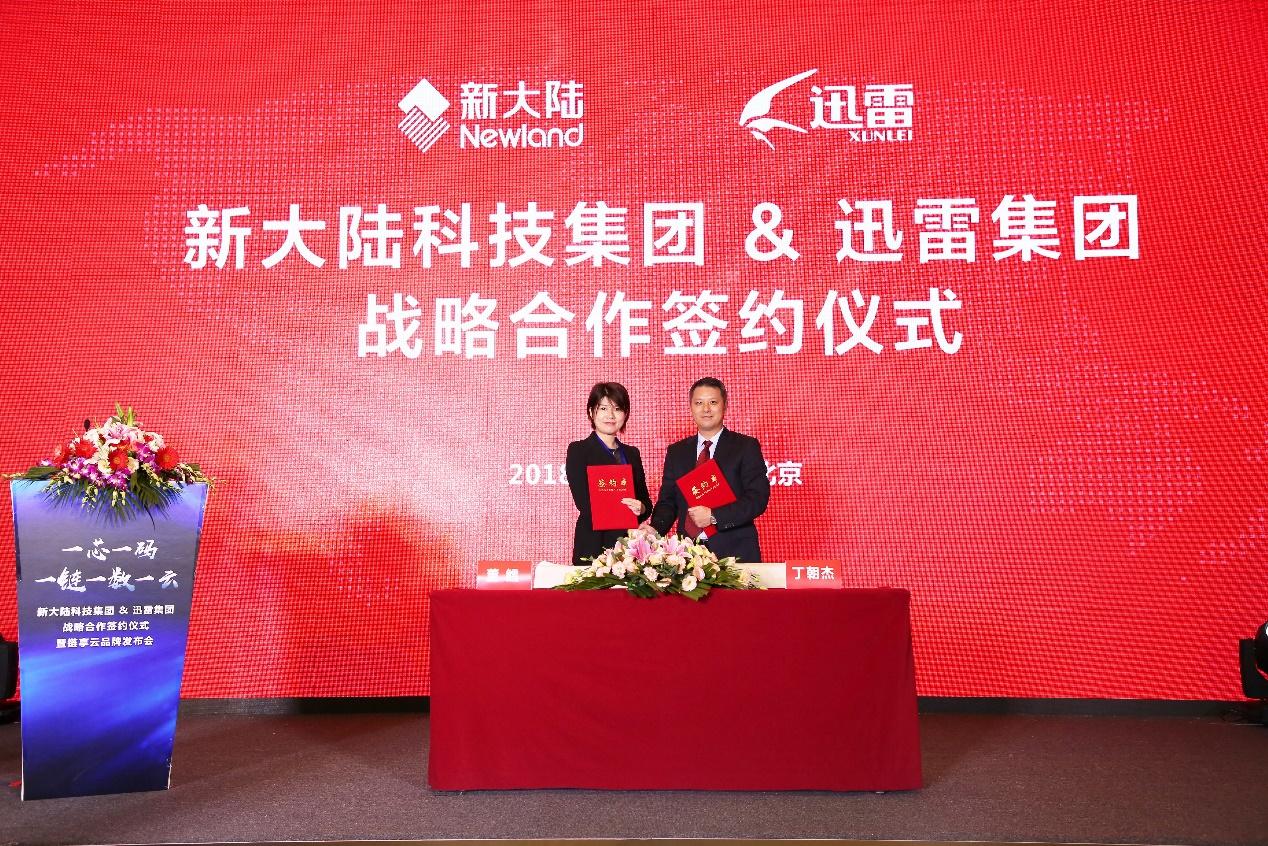 What is ThunderChain?
Xunlei has launched its advanced blockchain infrastructure ThunderChain a few months ago. This blockchain platform is known for its breakthrough in transaction processing capability and scalability. Based on Xunlei's proprietary homogeneous multichain framework, ThunderChain can handle over one million transactions per second (TPS) to meet huge transaction demand from millions or even billions of users simultaneously.
Based on its high performance ThunderChain, Xunlei also launched a distributed file system TCFS that is developed specifically for blockchain platforms. Blockchain developers and enterprises can build DApps with distributed data storage and integration. TCFS can provide companies and their applications with tamper resistant capability, security and encryption, mass storage and authorization transfer, in addition to other improved features.
With ThunderChain and TCFS, companies can easily create large-scale blockchain applications supporting millions or even billions of end users' needs. Recently, Laidian, a top Chinese startup offering mobile phone power bank sharing services for over 100 million customers, has joined ThunderChain platform and will develop a DApp that can respond to millions of user requests in both online and offline scenarios.
Laidian is not the only one firm leveraging ThunderChain's outstanding capabilities. Dozens of enterprises, government agencies and departments have come to connect with ThunderChain to explore blockchain solutions. These include many industries and sectors such as public welfare, health care, education, copyright, convenience services, and supply chains.
Who is Newland?
While Xunlei offers the best-in-class technology solutions in this marriage, Newland provides its solid payment expertise and network to bring blockchain into real-life scenarios.
According to the Nilson Report, Newland is a top global supplier of POS terminals. Its payment solutions are extensively adopted by China's financial institutions, including UnionPay, Agricultural Bank of China, Bank of China, China construction Bank and others. Its payment solutions have been applied in multiple sectors and offline scenarios such as telecommunication, taxation, natural resources, insurance and supply chains.
As part of the partnership, Xunlei will sell the LinkToken program, including LinkToken Mall and LinkToken Pocket, within mainland China to Newland's associated firm Beijing LinkChain. After the deal, Xunlei should then focus more on its strengths in the underlying technologies of blockchain and continue to improve the performance and scalability of ThunderChain. For the LinkToken users, Newland could integrate the digital assets to its electronic payment solutions and potentially expand its applications to other sectors that it operates in.
In addition to enterprises, Newland is working closely with governments in China to digitize public services called Digital Citizen program. Commenting on the rationale behind the program, Newland's President Wang Jing noted, "China has arrived at a turning point in the 'new era' where citizens not only live in a physical world but have a digital life. Everyone can be a 'digital citizen'."
The company has developed a digital identity (D-ID) system in Fujian province in China where citizens can apply their D-ID to public and medical services like society security and employment security services.
The Road Ahead
For the next few years and beyond, blockchain will no doubt redefine how business and even individuals' workflows and daily life. By leveraging blockchain as a distributed ledger, blockchain technology enhances privacy and security but also ensure convenience and efficiency for users. It will also reshape how companies, governments and end users address cybersecurity and protect themselves.
Some companies have been exploring offer blockchain-based security solutions for enterprises. It's also exciting to see industry leaders like Xunlei and Newland come together to leverage their respective strengths and help end users solve the pressing security issues.
Subscribe to our telegram channel.
Join