Konstantin Rabin, financial expert and crypto enthusiast, takes a look at recent announcement from Coinbase in which it has confirmed that they added Bitcoin Cash support in their wallet app.
Coinbase has confirmed that they added a new feature for Bitcoin Cash on their platform. Now users will be able to directly transfer the coins to their Wallet App straight on the platform.
Bitcoin Cash has gone through a lot of controversy in the past, it was even named as the culprit of the crypto winter. However, it seems like Coinbase is still recognizing its relevancy by announcing this direct support. This addition happened right after the exchange showed similar support for Bitcoin.
Reaffirming Support
The statement reads that Coinbase Wallet is an already devote supporter for the best cryptocurrencies to be found on the market. Including Bitcoin, Ethereum and Ethereum Classic. One more important thing to note with Coinbase is the fact that they also support more than 100 thousand ERC20 tokens. Addin Bitcoin Cash to that list was imperative, as the price and capitalization of the coin could not be ignored, even though it was connected to a lot of controversies.
Free and Fluid Transactions
Coinbase gave its users the ability to better control their assets. Meaning that the mobility of Bitcoin Cash has vastly improved. Until now, the users were only able to store the coin on exchange controlled wallets, but now it's a different story.
The support for iOS and Android users will be created sometime next week as well. The exchange highlighted the simplicity of the new addition. They also outlined the fact that it's a one-click transaction and the users won't have to go too much hassle. Coinbase also noted that both CashAddr address formats and Legacy addresses will have compatibility on the platform, which was basically a power move to cater to as many customers as possible.
In order to protect the users' Bitcoin Cash, the exchange will implement only the best security measures. Namely, the Secure Enclave technology and also support the Bitcoin Cash Testnet.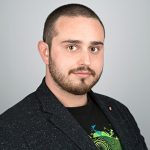 Author:

Konstantin Rabin
Konstantin has been working in the financial services industry since 2011. He is over-viewing various updates in the technology, regulation, and market movements. He's passionate about cryptos and all things financial.
Subscribe to our telegram channel.
Join