Sunday began pretty frantically for Bitcoin which price rallied past $7,000, adding more than $28 billion to the crypto market.
Even though Bitcoin, has been defying gravity this week following a serious security breach and theft at the world's biggest cryptocurrency exchange, Binance, it kept rising today by more than 10% to, at the time of writing, $7,475, its highest so far this year, according to CoinMarketCap.
The bitcoin price, began this year priced under $4,000. With its climax, the other cryptocurrencies followed, with major digital tokens Ethereum (+3.45%), Bitcoin Cash (+14.33%), Litecoin (+5.1%), and EOS (+5.75%) all making double-digit gains over the last 24 hours.
Mati Greenspan, Senior Trade Analyst at eToro explained: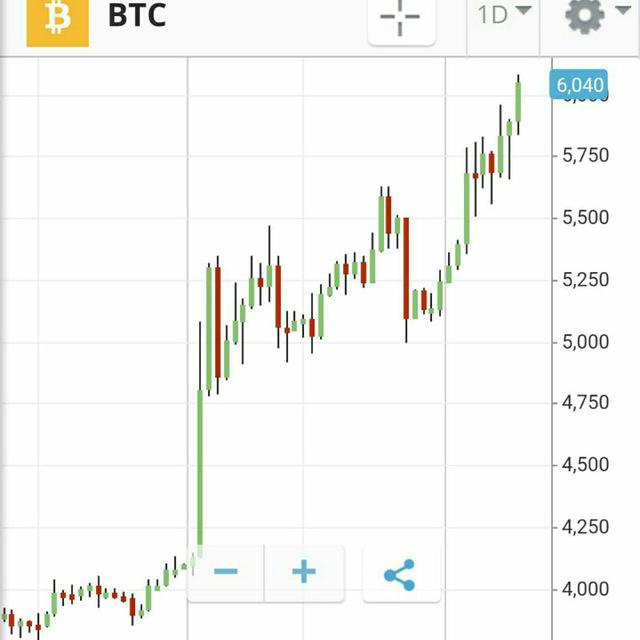 "There are many reasons for the recent bullishness in the crypto market. Looking at the chart we can see rising momentum since the start if the year.

If we zoom out and look at the price over the last few years, the entire decline of 2018 seems like a mere detour in a very strong upward trend.

Indeed, the price was as high as $20,000 just 18 months ago. So now that it's at $7,000 and rising, investors are seeing it as attractive once again."
Bitcoin became tough to beat back in 2017, with the price rising from under $1,000 to almost $20,000 in under 12 months. Since then, sentiment has soured as financial institutions and major retailers failed to make moves to support bitcoin and other major cryptocurrencies.
In the meantime, bullish analysts have continued to support bitcoin ahead of one of the biggest events in the cryptocurrency calendar starting next week—Blockchain Week NYC and CoinDesk's Consensus 2019 event, beginning Monday, May 13, and running all week.
Canadian investment banking and wealth management company, Canaccord Genuity, published a research note that says the price will gradually climb back to $20,000 by March 2021.
"Bitcoin has started to form the spring 2019 bottom we began mentioning last year, although a close look at the chart suggests the recovery may be slightly ahead of itself. Looking ahead, if bitcoin were to continue following the same trend, the implication is a slow climb back toward its all-time high of ~$20,000, theoretically reaching that level in March 2021."
Canaccord also said that they believe that an expansion in institutional interest in bitcoin remains a crucial catalyst for the price of the flagship cryptocurrency.
They said:
"Bitcoin's most compelling case for institutional investors may be as an uncorrelated asset to stocks, bonds, gold and oil, as bitcoin continues to demonstrate low correlation to other asset classes."
Morgan Creek Capital Management founder Mark Yusko said that bitcoin's price could reach a high of $400,000 within a ten years.
In his interview he said:
"Gold has been hard money for 5,000 years. It's about 7.4 trillion dollars in value. The best thing about Bitcoin is it's digital gold. It's much easier to transport; it's much easier to divide. It has all these essential qualities that I think are superior to gold. If we get the amount of value equal to gold, that would be about 7.4 trillion, divide that by 21 million coins, you get around $400,000 per coin, maybe $500,000 per coin. When does that happen? It might be a decade or more."
With him agrees one of the most bullish investors and figures in cryptocurrency, Tim Draper who already in November claimed that bitcoin could reach $250,000 by 2023.
Tim Draper Updates $250K Bitcoin Price Prediction to 2023
Even though Draper was then laughed at, at the conference in May he confirmed his earlier predictions saying:
"It's going to keep going because, I'm a believer than in four years, something like that, bitcoin will be about a 5% market share of the Earth. It's a better currency, it's decentralized, open — it's transparent; everybody knows what happens on the blockchain."
One of the prominent bitcoin analysts and co-founder of the Civic (CVC) blockchain identity platform, Vinny Lingham, tweeted:
If Bitcoin can hold the $6200 level for the next 24-48 hours, then the bear market is officially over and I'm going to become a raging bull!

— Vinny Lingham (@VinnyLingham) May 10, 2019
The chief executive officer of Galaxy Digital, Michael Novogratz gave a statement on this event saying that the next new all-time high of bitcoin should be expected within the next eighteen (18) months.
The truth is, people are mostly interested in buying bitcoin only after a major price move.
Fund manager Tom Lee prefers to 'hodl' as it's shown to be a much more lucrative strategy.
In fact, it's the best way to not miss out on the Bitcoin rocket as it historically generates most of its annual gains in just ten days.
Lee also shared a Twitter poll which provides some insight into the possible point of FOMO could be this time around.
At what price will see FOMO from those who gloated about 90% crash in $BTC?

Military term, SWAG (scientific wild-assed guess).

My SWAG is $10,000 is price that causes FOMO from those who saw #bitcoin as dead forever.

POLL:
At what price do we see FOMO?

— Thomas Lee (@fundstrat) May 12, 2019
If the Bitcoin hits the $10K mark, that could definitely break a major psychological barrier as many people will realize that cryptomarket is very much alive. Not just that, but many ex investors could crawl back with the strong belief that bitcoin will beat the results from December, 2017.