The flagship crypto took a break Thursday and is trading around $7976.60.
By Dmitriy Gurkovskiy, Chief Analyst at RoboForex.
SEC postponed its decision on Bitcoin ETF again.
eBay will not support cryptos.
BTC Rallying: A medley of reasons.
The SEC postponed its BTC ETF decision again. The matter has been discussed for over four months so far, but there's no progress yet. The SEC was supposed to finally take the decision on May 16, but the deadline was again postponed.
Bitwise survey run in early 2019 showed that around 58% would consider investing into Bitcoin ETF's. People are interested in a new investment vehicle, and the market is likely to get more fresh cash in case the SEC ends up launching the ETF. This will also push the BTC price up.
Meanwhile, eBay changed its mind and is not currently going to enable crypto payments. This was not very much expected, as the eBay management said something different during Consensus 2019, but now are saying they meant pretty much another thing.
The market, however, is mostly eyeing the Bitcoin rally and asking for the reasons. Some say people turned to the most stable cryptocurrency after a lot of crypto exchange issues and hacks. The BTC may have also got supported with the news on new trading exchanges being launched soon, as well as with Consensus 2019 itself. The traders are active anyways, which is a positive thing for the market.
On W1, the BTC is rising, but one cannot tell exactly whether it's a pullback or a complete reversal. For now, this is most likely a correction, with the Stochastic forming a golden cross and the MACD lines headed down. The move is so far quite predictable: the price is approaching 38.20% Fibo, or $8,520, and may soon reach 50%, or $10,175.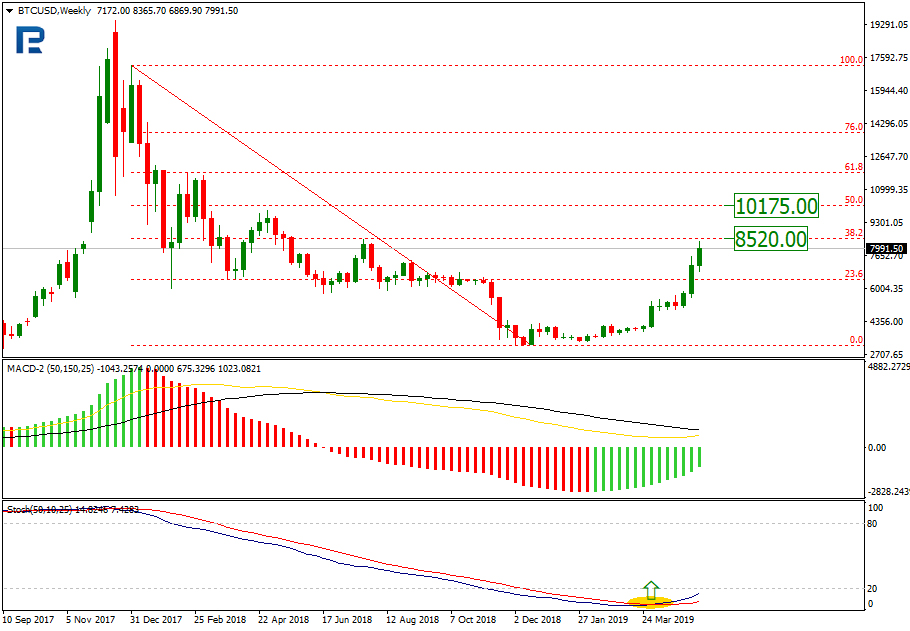 The D1 charts show the investors are quite sure about the BTC: the price easily broke out the former upper channel boundary and the round number resistance at $6,000, while it slowed down afterwards, which may mean a short term correction is likely, pushing the price to $7,000. The MACD is going up firmly, which means the price is likely to continue rising once the pullback is over.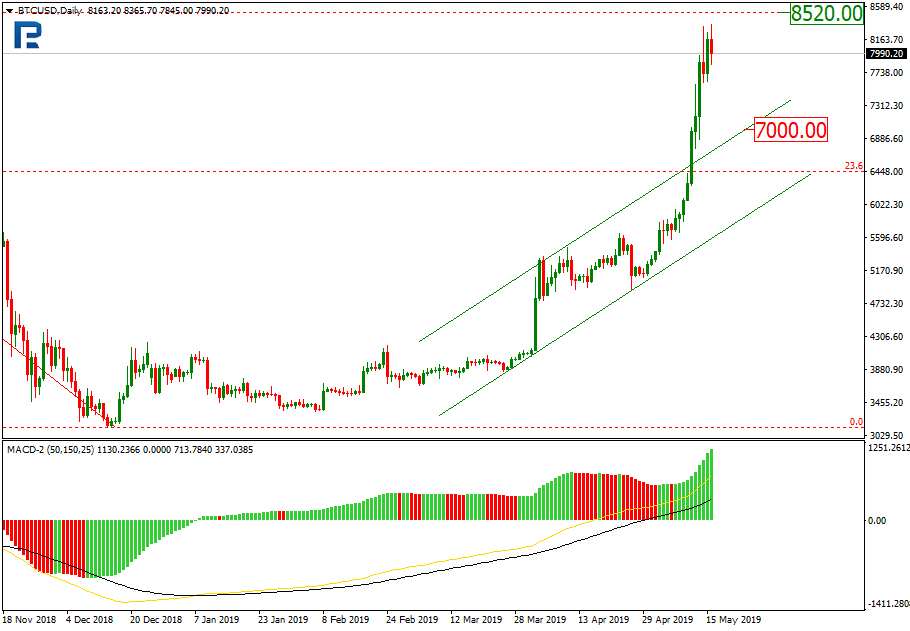 On H4, the BTC is also trending upwards; the Stochastic, however, is diverging, which means the price may hit the current channel support at $7,763 and then head down to 23.60%, or $7,550, 38.20%, or $7,046, and 50%, or $6,645.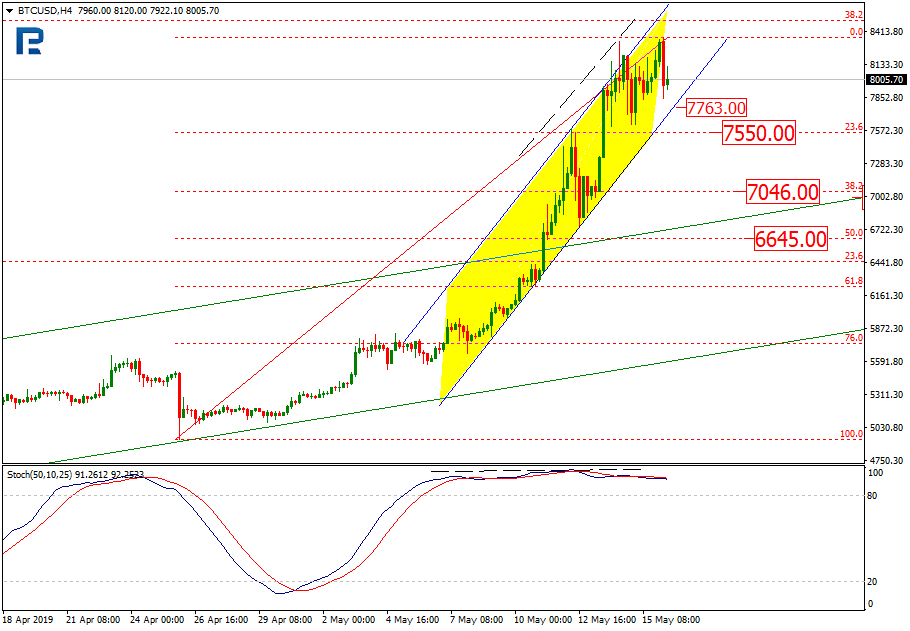 Photo: Roboforex / TradingView
Subscribe to our telegram channel.
Join