September has been a chaotic month for both the stock market and cryptocurrency landscape.
Market optimism has given way to the ongoing Evergrande crisis in China's real estate market, but bullish outlooks are still holding despite sharp dips recently. For the freshly public retail brokerage, Robinhood, the company's early weeks on the Nasdaq couldn't have been more chaotic, but could signs of a Bitcoin revival ultimately aid the exchange in finding its feet?
Robinhood has rapidly grown into the United States' favourite retail investment app, with an engaged user base and trading volume that's generally outpaced its rivals throughout much of 2020 and 2021.
As the data above shows, the monthly active users for Robinhood climbed to 20 million in the early months of 2021 in an explosion of usage that was likely fuelled by the Gamestop short squeeze, in which many Robinhood investors participated, back in January.
Robinhood has also benefited from a significant rise in the number of retail investors arriving on the market, owing to global government stimulus packages and an abundance of free time.
As the chart above shows, Robinhood's volume of new cryptocurrency traders spiked in early 2021. With as many as three million new traders arriving in January and February on average, it's clear that the platform has made a significant effort in wooing crypto investors in recent months, with the app enabling the trading of Bitcoin, Ethereum and meme-based coins like Dogecoin.
It's these efforts to accommodate cryptocurrencies that could be telling for the future growth of Robinhood. In going public, we may soon see just how important Robinhood's cryptocurrency connections really are – and whether the company's floatation is strong enough to move alongside a cryptocurrency market that looks set for a late 2021 bull run.
Robinhood's Chaotic Nasdaq Arrival
Robinhood endured a largely volatile start to life on Wall Street, owing to wider industry concerns and meme-based trading. After an initially weaker launch than anticipated in which the company debuted at a value of $38 – the lower end of its offering range – heavy levels of social media sentiment emanating from forums like r/WallStreetBets saw the value of HOOD climb to highs of $70.39 before a later correction.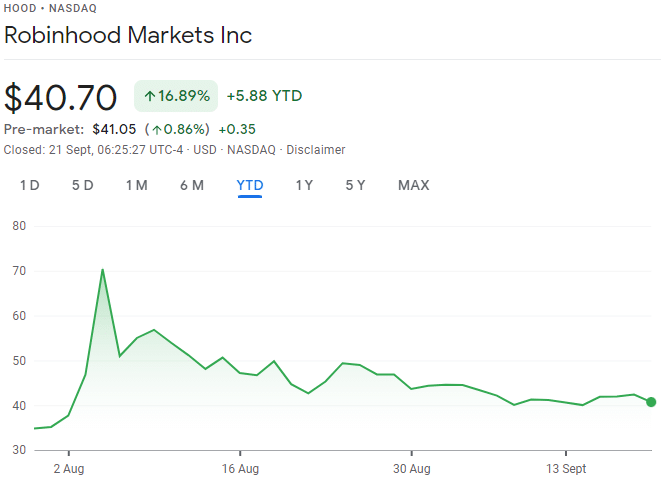 Although Robinhood climbed to almost 100% of its debut price, much of this wave of retail optimism appears to be cooling. However, we can see that the stock is still a healthy 16.89% above its initial price at the time of writing – amounting to a market cap of $34.82 billion.
Robinhood's volatility upon its launch may be down to a handful of factors. Significantly, the company opted to reserve between 25% and 30% of its IPO shares for its retail investor users, equating to some 301,573 investors and around 1.3% of the app's total user base. Although this largely unprecedented step was an admirable nod to the company's drive to 'democratize finance for all', it may have led to more investors selling up on their holdings as Robinhood's shares began to show signs of weakness.
Although Robinhood gained plenty of traction on Reddit's r/WallStreetBets forum – amassing a huge 1,700 mentions in the space of 24 hours following its listing, it's likely that negative news stories surrounding brokerage regulation, competition and threats to the stock market compounded to weaken the value of Robinhood's shares.
"SEC Chairman Gary Gensler has stated that his agency is considering a ban on payment for order flow (PFOF), which is the primary source of revenue for Robinhood and many of its competitors," warned Maxim Manturov, head of investment research at Freedom Finance Europe. "PFOF enables these brokers to eliminate visible transaction fees, which they use as their key marketing tool." This regulatory setback, compounded with the news that PayPal was looking to enter the world of retail brokerages, paved the way for a 7% dip for the platform's shares in early September.
Now, even the stock market that Robinhood is reliant on for trading is showing signs of weakness as the Evergrande crisis in China sparks the market's biggest drop since May. However, there's hope that the world of cryptocurrencies may step in to aid a future recovery for the troubled online brokerage.
Revival Powered by Bitcoin
Cryptocurrencies may be largely decentralized and thus, theoretically at least, far removed from the trials and tribulations of Wall Street – the market's recent downturn in the wake of the Evergrande crisis shows that this isn't the case.
However, the relationship crypto has with the wider financial ecosystem is symbiotic for the firms that have opted to embrace digital finance. We can see evidence of how cryptocurrency can significantly influence the value of assets on Wall Street by looking at the recent performance of MicroStrategy, a business analytics platform that reportedly holds around 105,085 Bitcoin – equating to more than $4.5 billion at the time of writing.
As the data above shows, MicroStrategy's significant BTC holdings has meant that the company's Wall Street stock is now heavily influenced by the performance of the cryptocurrency. Significantly, even in light of recent crypto pullbacks, we can see that MicroStrategy is still far outperforming the Nasdaq.
This means that in a subsequent bull market, we may well see the likes of Bitcoin and Ethereum driving the growth of Robinhood's stock prices, which could be a welcome sight for listing that's so far been hampered by bad news.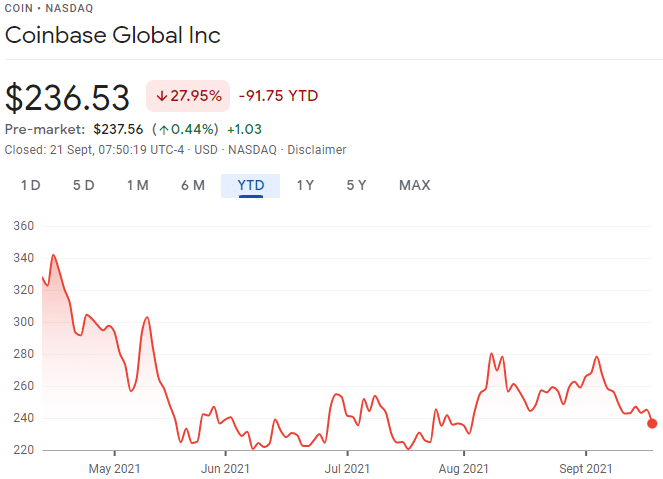 Although it's a small sample size, we can see evidence of another trading platform, Coinbase, reacting to cryptocurrency market sentiment through its Nasdaq listing price, too.
After listing a matter of days prior to an extraordinary cryptocurrency market pullback, we can see that Coinbase began to show signs of strength as the ecosystem showed signs of recovery in late July before further downturns and news of a potential SEC lawsuit arrested the stock's rise.
If Robinhood follows in the footsteps of MicroStrategy and Coinbase stocks, it's certain that the wildly popular retail investing platform will be in for a rollercoaster ride as it rises and falls alongside the famously volatile cryptocurrency market. However, with optimistic forecasts ahead, a strengthening BTC may well be a breath of fresh air for a stock that's been forced to cope with more than its fair share of bad news of late.
As one of the world's more popular investing apps that maintains a focus on cryptocurrencies, it seems likely that Robinhood will be influenced by the movements of Bitcoin and its altcoins. Given what a wild ride crypto has had so far in 2021, Robinhood looks set for more volatility, and perhaps some prosperity, ahead.

Author:

Dmytro Spilka
Dmytro Spilka is a CEO at Solvid and founder of Pridicto, a web analytics startup that uses AI and Machine Learning to forecast web traffic, monitor vital metrics and set visual traffic aims. His work has been featured in various publications, including Tech Radar, Entrepreneur, Huff Post, The Next Web and ReadWrite.
Subscribe to our telegram channel.
Join