Konstantin Rabin, fintech expert and crypto enthusiast takes a look at recent addition of famous Roger Ver to LivenPay's advisory board.
Roger Ver, the creator of Bitcoin Cash and the author of many controversies in the Blockchain world has just been accepted in the Advisory board of LivenPay.
Ver has confirmed his involvement in the project through a tweet supporting the company behind it.
A New Advisor
The addition of Roger Ver came right after LivenPay announced its token sale event which is scheduled to be on February 28th. For now, however, the private sale of tokens have reached around $10 million, which the company is hoping to top with a total of $28 million in raised funds.
LivenPay is an Australia-based platform that is trying to incorporate the food industry into the blockchain. Meaning that users will be able to utilize their tokens in order to buy meals and groceries in various stores and restaurants.
There are already more than 400,000 registered users and about 1,000 places indicated in the platform. The company has also confirmed the fact that they have installed more than 20,000 point-of-sale devices all across the country.
Controversial Past
The addition of Roger Ver to the advisory board may be a hard thing for some investors to cope with. Even though the man managed to make Bitcoin Cash a success, there are numerous accusations that he either pumped it or was just lucky. Even if these are just rumors we need to look at the facts. Roger has tried on several occasions to undermine Bitcoin and announced Bitcoin Cash to be the true cryptocurrency.
It is quite hard to determine what exactly are the intentions of joining LivenPay, but nevertheless, his expertise will be quite helpful in developing the project.
As already mentioned the token sale is to happen on February 28th, and the project itself also looks promising thanks to the 1,000 eating spots they have already procured.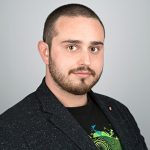 Author:

Konstantin Rabin
Konstantin has been working in the financial services industry since 2011. He is over-viewing various updates in the technology, regulation, and market movements. He's passionate about cryptos and all things financial.
Subscribe to our telegram channel.
Join