There are rumors that Altcoins season has just started as BTC dominance falls below 54%, although still holds more than $1 trillion of the $2 trillion capped crypto market, and Ethereum sets a new ATH.
Cardano
It's been a week since Cardano completed the decentralization of its block creation. Block production in the Cardano network won't be relied on the Cardano's core nodes – IOHK, Cardano Foundation, Emurgo, but will be fully run by community-run stake pools. In April the project will be testing the second pillar of the decentralization of its network, which is P2P networking. All pools, despite their location, will be linked together via this P2P networking.
ADA/USD wasn't affected by the rollout of the "Pillar one" of the Cardano decentralization, on March 31. The pair remains in a consolidation zone between $1.16 and $1.25, while other tokens from the top 10 were more volatile moth-to-date.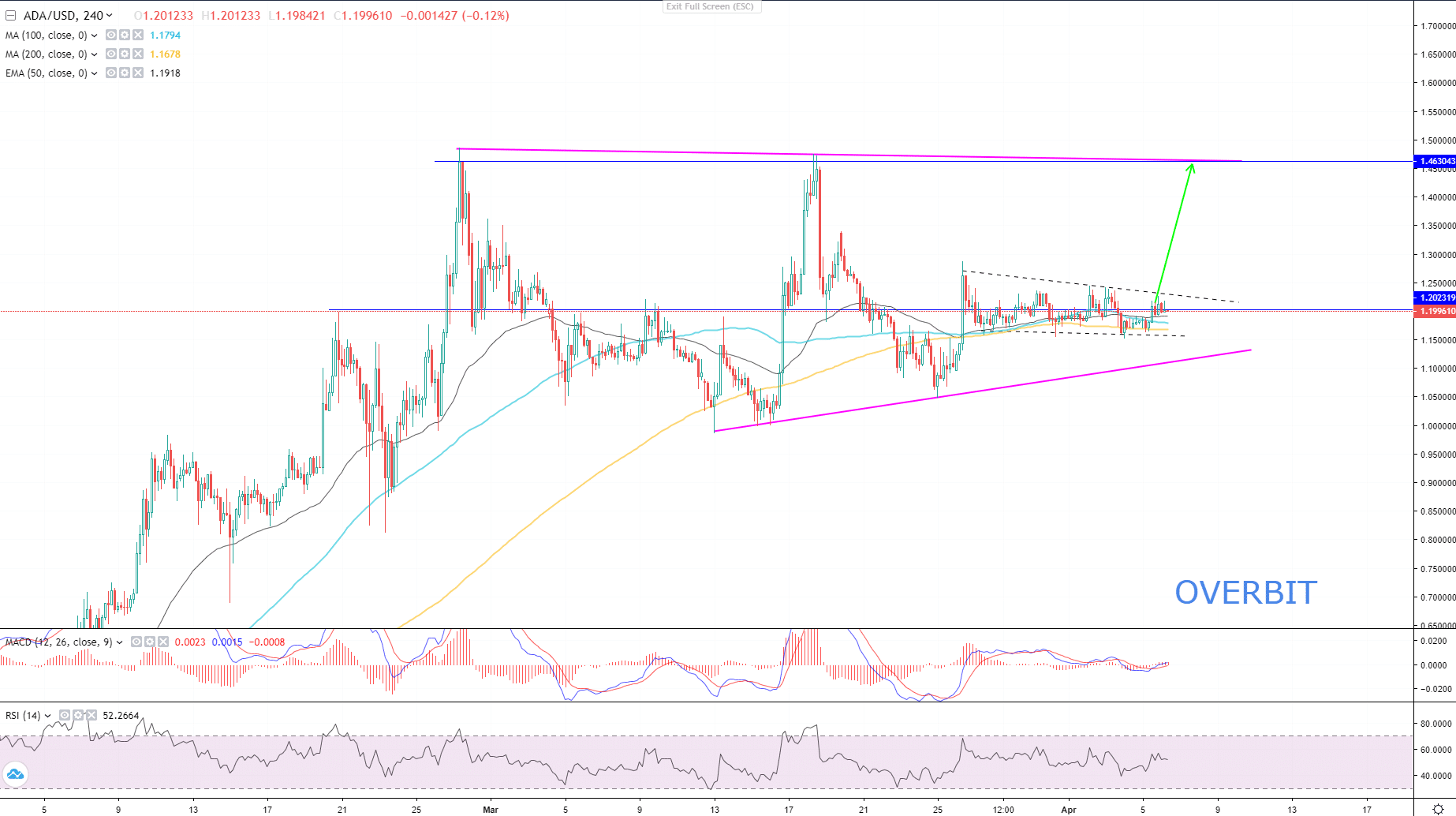 There is a strong resistance at $1.20150 which ADA/USD is testing at the moment and a bullish flag pattern is formed on a 4H chart. Supporters of the bullish continuation of Cardano are MA100, MA200 and EMA50; all moving averages want Cardano to surge. MACD crossed the signal line. Although breaking above the $1.20150 holds a signal of buyer's strength, the confirmation of the bullish continuation lies above the upper edge of the bullish flag, i.e. above $1.24. If the breakout from the bullish flag is confirmed, it is expected that Cardano will surge up to $1.46300.
VeThor Chain
VeChain Thor is  a great success, as blockchain evolves and dives into IoT, projects like VeChain and IOTA are on the rise now. VeChain Thor runs a dual token system, like many blockchains do, i.e. Theta and its THETA and TFUEL. VET is VeChain Thor's store-of-value token, whereas VTHO is an energy token, similar to Theta's TFUEL. VTHO is used to cover gas costs of the VeChain Thor blockchain. In a public poll, most of the stakeholders of the ecosystem voted for the reduction of the VeChain Thor's gas price on April 1, since then the VTHO/USD dropped more than 12% the same day but was able to recover quickly. Some investors' fear that the demand in VeChain Thor's blockchain won't withstand the price reduction of 1% of the current price and VHTO will drop heavily, however, there is still a long road to the implementation of that deduction and according to the technicals analysis, more jump is expected.
VTHO/USD has completed a breakout from the wedge pattern and tested the upper edge of the wedge as support. VHTO still looks bullish above the important support zone which lies within the area of $0.015700 and 0.016400.
MACD is extremely bullish on VHTO, whereas RSI nears the overbought. Another bullish promising factor to take a note is the price action of VHTO on April 5 and 6. After a breakout from the wedge yesterday, VTHO dropped to test April 4th's resistance as support and continued upwards. With all that being said, for the short-term VTHO looks bullish, resistances to watch are $0.019800, $0.22000 and 0.23400.
Ethereum
On its way to a carbon-neutral blockchain, Ethereum will be implementing several updates to its network based on community voted EIPs. One of the updates to be released in April, is codenamed Berlin. Berlin will be deployed on block 12 244 000 which is expected to be released on April 14 this year. The Berlin update is intended to optimize the gas fees and temper the DoS attacks. The Berlin update was postponed many times, originally this update was scheduled to be launched in the summer of 2020 but was postponed as the Ethereum 2.0 launch was accelerated by the surging interest in DeFi. Berlin is an update to Ethereum 1.0 PoW network which will be running alongside the Eth 2.0 for a while before the complete merger which is scheduled for 2022.
Ethereum was extremely bullish this week and outperformed Bitcoin in price gains, setting a new all-time high. While Bitcoin is still consolidating, Ethereum made a major step towards its surge, which is a breakout from the triangle.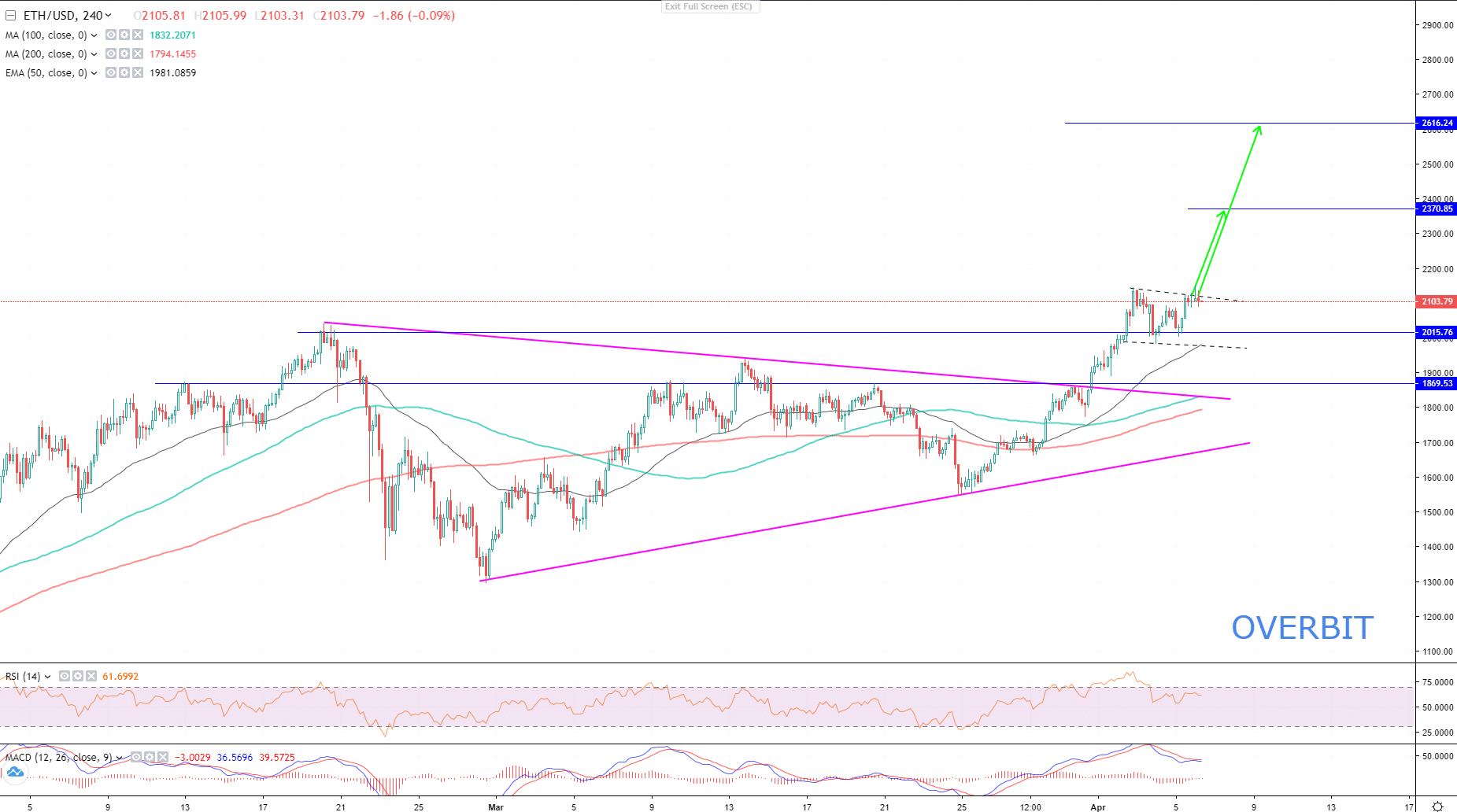 ETH/USD looks very bullish as it's about to break out from the local short-term resistance and set a new ATH. Ethereum already tested the previous ATH at $2039 as support and is determined to jump further towards $2500 and $2600. There are two resistances to watch, one lies on $2370 which is a target level of the short-term bullish flag pattern, the other one lies at $2500 which is a psychological resistance, and the final is at $2600, which is a target price of the triangle pattern. RSI cooled down a bit after signaling an extreme "overbought" on a 4H ETH/USD chart, MACD line is above the signal line, hence the only confirmation for another bullish marathon here is closing above $2145.

Author:

Aziz Kenjaev
Senior Vice President at Overbit. Technical analyst, crypto-enthusiast, ex-VP at TradingView, medium and long-term trader, trades and analyses FX, Crypto and Commodities markets.
Subscribe to our telegram channel.
Join