The crypto market has been witnessing a tremendous amount of positive activity in recent weeks. Our expert highlighted certain off-chain data that correlates to this bullish development.
There are many dynamics to the price trend of the global cryptocurrency industry, marked with a mixture of uptrends and downtrends.  While the broader crypto market has been seeing a lot of positive activities lately, an event that has pushed the industry's capitalization beyond the $2 trillion benchmarks, the current trend can at best be described as the positive aftermath of the broad market correction seen in the spring of 2021.
The crypto market experienced a lot of regulatory scrutiny in the first half of the year, with a series of bans on digital currencies from China, as well as taxation fears from the United States remarkably crippled the market, with many coins paring off their gains. The market correction was quick to be upturned as the space began seeing institutional investors uphold their embrace of the new monetary system. Amongst the institutional investors who contributed to the growth of this space include MicroStrategy Inc, Square Inc and electric automaker Tesla Inc, who pumped about $1.5 billion into Bitcoin (BTC) back in February.
Crypto Market Is Attaining Maturity
The cryptocurrency industry, which was considered by many as a nascent ecosystem, is now gradually attaining maturity, especially when the emphasis is placed on products that are technical in nature.
The maturity of the ecosystem is also evidenced by the inflow of funds into Initial Coin Offerings (ICO) by investors of all classes. The industry has truly come a long way when compared with the ICO craze of 2017, in which many projects are shunned by investors.
Additionally, deteriorating monetary policies by various world governments, particularly the American Federal Reserve, is also helping in fueling the growth of the broader crypto industry. In 2020 alone, about $9 trillion were printing, a figure that represents about a quarter of the dollar in existence.
Excessive fiat circulation like this breeds inflation, a scenario that pushes more investors to back Bitcoin and other promising altcoins as a hedge against inflation and a viable store of value.
Bitcoin Long Term Price Outlook
A number of fundamentals are growing more impressive in the Bitcoin blockchain. Despite the tapering price dominance of Bitcoin, its influence is still very massive, and its growth over time has a high tendency of driving altcoin surge and the broader industry as a whole.
The longer-term BTC/USD chart, as seen on TradingView shows Bitcoin is trailing an upward trend.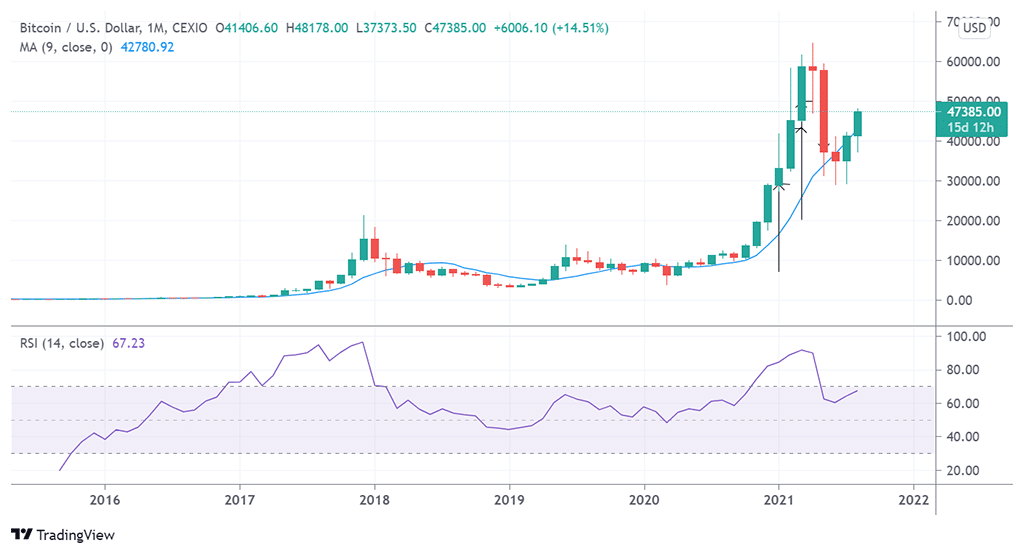 With increased adoption, which can happen faster than all anticipate, the longer-term price projection of Bitcoin, barring all forms of imminent retracement, can hit $300,000 by 2025.

Author:

Pavel Shkitin
CEO at Nominex Exchange. Pavel has dedicated 5 years of his life to develop enterprise cloud systems and e-commerce solutions plus 5 years in the blockchain industry.
Subscribe to our telegram channel.
Join