Assuming that BTC can reach over $1,000,000 by 2030, it's possible that Bitcoin can reach $10,000,000 if it's still in its current form and has not been converted into another high-valued asset.
Since its inception, Bitcoin has changed the financial world and more. It's cut the use of intermediaries and increased the assets it can be used on. However, the price of any cryptocurrency is captive to market price volatility, making it difficult to predict the coin's future. We can watch for trends and make educated guesses as to what direction the price will go.
This guide aims to look for those patterns from BTC's earlier days until right now to understand what influences its price. And we'll look at the Bitcoin price prediction from 2021 to 2025, 2030, and 2050.
Why Is Bitcoin Valuable?
Unlike traditional money, which can be printed on-demand, there's a limit to how many BTCs are available. The coin's scarcity and increased interest and demand have led to more investors backing it up, thereby driving up its value and changing the financial market.
In fact, many reputable businesses like Tesla, Paypal, and Square have begun offering Bitcoin as a payment option. A move like this legitimizes crypto, increasing confidence that bitcoin will eventually be used as a mainstream currency.
Bitcoin Price History
Bitcoin did not always experience the highs it is now. The first prominent peak was back in 2011 at $1 in April of that year. They shared an incredible price hike up to $32 by June. That was a massive jump for the time. However, the high was short-lived due to the recession that hit the crypto markets. After a string of bad luck, the price maintained at $13.20 until 2013.
That's when things began to change for the coin. The price sharply rose to $220 by April of that year, dipped to $70 2 weeks later, but rose to $123.20 in October and $1156.10 by December. As with most highs, the price dropped three days to $760 and another depression that lasted a few years.
The price of BTC rose and fell for a few more years, the most significant rise as more cryptocurrencies were made available. But Covid is what really drove Bitcoin to where it is right now. There were fears of inflation and a reduction in the value of a US dollar, prompting investors and common folk alike to buy Bitcoin at record numbers. By the end of 2020, the value of Bitcoin was just under $24,000 after beginning the year at $7,200.
Bitcoin in 2021
This year has been great for Bitcoin so far. On January 14th, the coin broke its previous record and rose to a value of $40,111, where it sat for three days before slipping back to a comfortable $30,525.39.
The crypto repeated the feat on February 16th by hitting another record high of $51,735.38 and continued to climb over the next few weeks. As investors awaited the debut of cryptocurrency exchange Coinbase, the price of BTC broke yet another record on April 13th, climbing as high as $63,729.5.
Short-Term Price Prediction for 2021-2022
Even within the last few months, we've seen the price of BTC swing within a short time. While they have broken records they set within weeks, their highs stay for a few days at most. The crypto market is incredibly volatile, so any predictions should be taken with a grain of salt.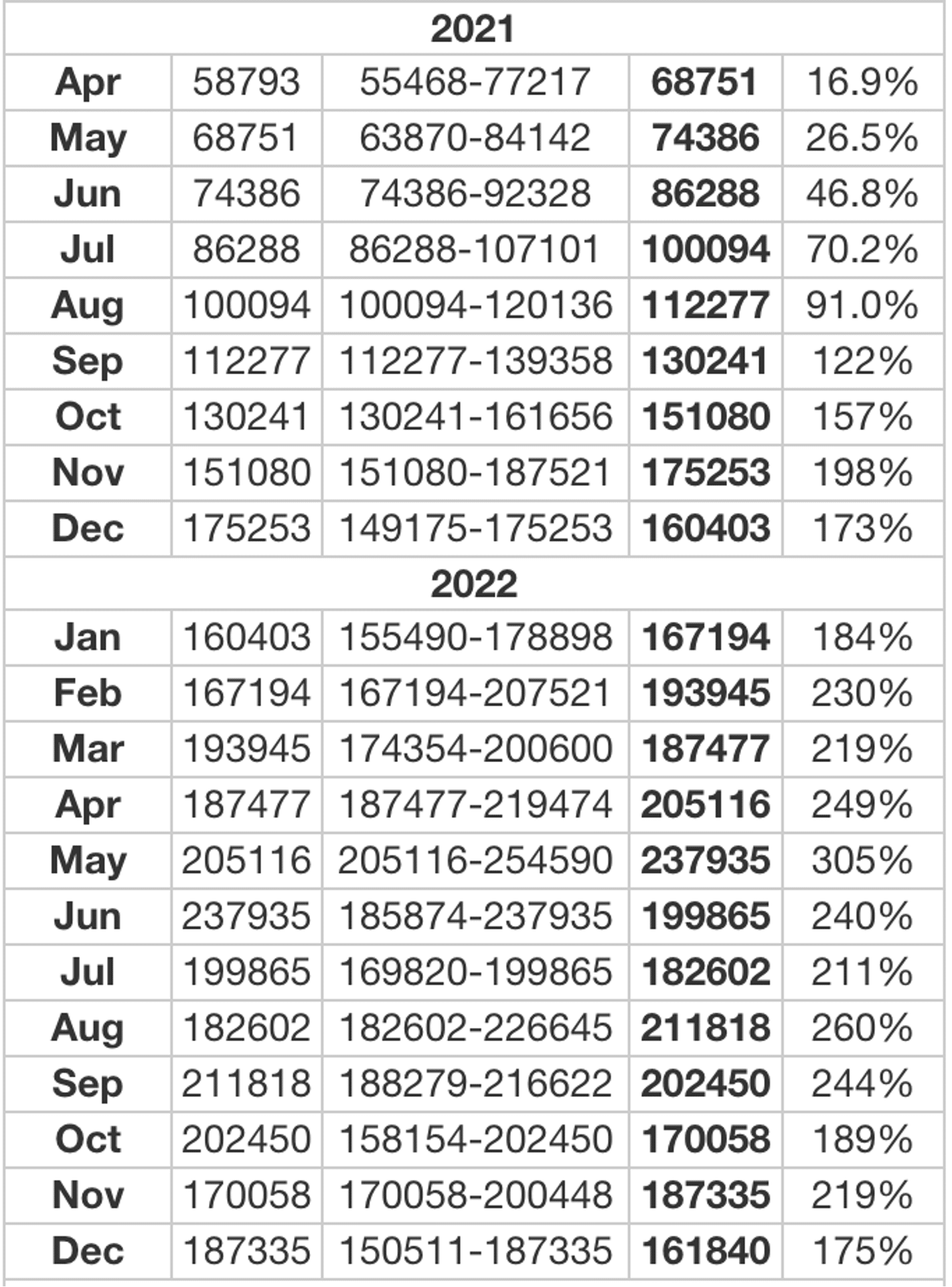 Bitcoin Price Prediction for 2025
There are a few analysts (specifically at Wave Financial) predicting bitcoin hitting $400,000 by 2025. It sounded outlandish when the prediction was first made but with bitcoin's price currently over $60,000, it doesn't sound like a lofty goal anymore. Experts have relied on Fibonacci extensions, the Mayer Multiple approach, and NVT to arrive at this conclusion, though inaccuracies can always arise.
Bitcoin Price Prediction for 2030
It's likely that by 2030, most available BTC will already have been mined, meaning supply and demand will not likely influence its price. Instead, its availability and acceptability as a payment form will.
By then, millennials and Gen Z will control most trading and, having grown up in a digital age, may prefer digital assets over physical ones. That might mean Bitcoin becoming more widely adopted than ever before.
The current projections for the coin are optimistic, which will undoubtedly influence more people to invest in it. If that does happen, the price of Bitcoin can realistically be at or exceed $1,000,000.
Bitcoin Price Prediction for 2050
Assuming BTC does in fact reach over $1,000,000 by 2030, it's possible that Bitcoin can reach $10,000,000 if it's still in its current form and has not been converted into another high-valued asset.
However, that's almost 30 years into the future, and it's challenging to make long-term predictions, especially on that scale. There're too many variables at hand that we can't say much with confidence. For the moment, we can be optimistic that Bitcoin hits all the other predictions we set out.

Please check out latest news, expert comments and industry insights from Coinspeaker's contributors.