Stablecoins continue to gain popularity. Let's take a look at some of them that are powered by the EOS blockchain.
Stablecoins continue to become more widely used in the cryptocurrency market in 2020. Standalone projects, private banks, and even governments have realized the potential of digital assets pegged to the value of fiat currencies. Stablecoins are popular among users as well because they make it easier to trade on exchanges and participate on DeFi lending and borrowing platforms. EOS is becoming the blockchain protocol of choice for a few up-and-coming stablecoin projects you should know more about.
Stablecoin Market Overview: BITUSD, DAI and USDT
Before comparing EOS stablecoins, there are three stablecoins built on other blockchains that should first be mentioned. If you follow the crypto space, you may have heard of BITUSD, DAI, and USDT.
BITUSD: When it launched on the BitShares blockchain in 2014, BITUSD became the first stablecoin and first blockchain-based representation of U.S. Dollars. Since then, the BitShares blockchain has added support for assets such as the Chinese Yuan, Japanese Yen, Euros, British Pounds, and gold.
DAI: DAI is arguably the most influential stablecoin due to its widespread use on decentralized exchanges and decentralized finance (DeFi) protocols built on the Ethereum blockchain.
USDT: This token is available on the EOS blockchain, but it can't be classified exclusively as an EOS stablecoin since it also makes use of the BTC (Omni), Liquid, Tron, and Ethereum blockchains. In terms of market capitalization among all stablecoins, USDT has maintained its position as the market leader for many years.
Overview of Current EOS Stablecoins
While there are only a handful of stablecoins available on the EOS blockchain, you can certainly find high-quality options. USDE, EOSDT, and VIGOR, in particular, stand out as interesting USD-pegged stablecoin projects. Here is how they compare.
*All data was calculated on March 2, 2020. Statistics on market cap, collateral, etc. will vary over time.
Pizza.live (USDE)
USDE is part of a two-token system, consisting of USDE and PIZZA. USDE is a USD-pegged stablecoin issued through the creation of CDPs (Collateralized Debt Positions) on Pizza.live. Users can generate USDE by collateralizing EOS at an LTV ratio between 10 and 70%.
PIZZA is a non-stablecoin cryptocurrency. It is used to distribute collateralization rewards to CDP holders. Users holding PIZZA are eligible to vote for a management council that is responsible for setting various system parameters, such as commissions, issuer awards, and collateralization ratios. The project also has its own EOS-based decentralized exchange called PIZZA DEX, which launched in December 2019. Fees for makers and takers are currently set at 0.15%.
Market Cap and User Adoption: No market cap data is available for USDE on sites like CoinMarketCap or CoinGecko, but the project website states 113,605.7578 USDE is in circulation and collateral of over 74,287 EOS. The project website and exchange website both include 24 hour trade volume for trading pairs on PIZZA DEX such as PIZZA/USDE, EOS/USDE, and USDE/USDT.
Equilibrium (EOSDT)
EOSDT is the first stablecoin built on Equilibrium, which is an EOS-based multichain framework for crypto-backed stablecoins and DeFi products. Users can generate EOSDT through a collateralized loan on the EOSDT Gateway. EOS is used as collateral, and the minimum collateralization ratio is currently 130%.
Similar to Pizza.live, this lending portal uses a two-token system. NUT, a non-stablecoin cryptocurrency, is used for covering admin fees, accessing liquidated EOS collateral, and governance.
Market Cap and User Adoption: According to CoinGecko, EOSDT has a market cap of over $5,300,000. The project website states total collateral is 3,084,590.09 EOS. EOSDT has a Stability Fund of 6,611,216.83 EOS. This is capital locked down by the project to ensure that user funds are protected in case of unexpected market events.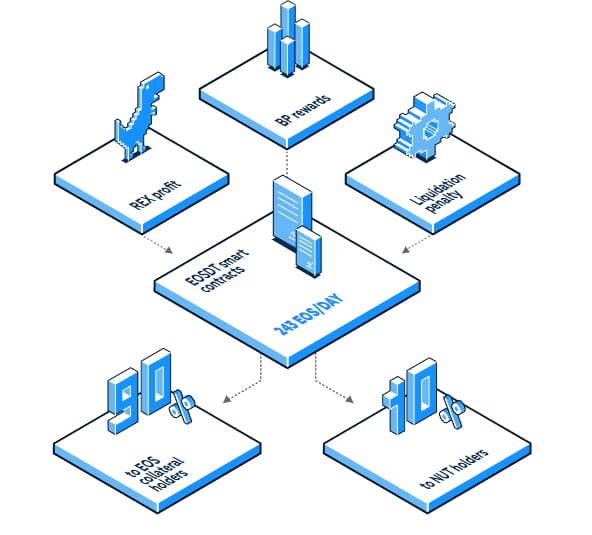 VIGOR (VIGOR)
VIGOR is a stablecoin for the VIGOR Protocol. The project website lists VIGOR as the official ticker symbol, but some other websites list the ticker symbol as vUSD or VIG.
The protocol is currently available on the EOS Jungle testnet and is expected to officially launch on the EOS mainnet on March 23, 2020. Users will be able to borrow VIGOR by staking EOS or earn rewards by insuring collateral with VIGOR directly on the homepage. The minimum collateralization ratio for loans will be 111%, but borrowers need to account for additional insurance costs.
Market Cap and User Adoption: No market cap data is available for VIGOR on sites like CoinMarketCap or CoinGecko. The protocol hasn't launched yet, so the project hasn't listed the amount of VIGOR generated or total collateralized EOS.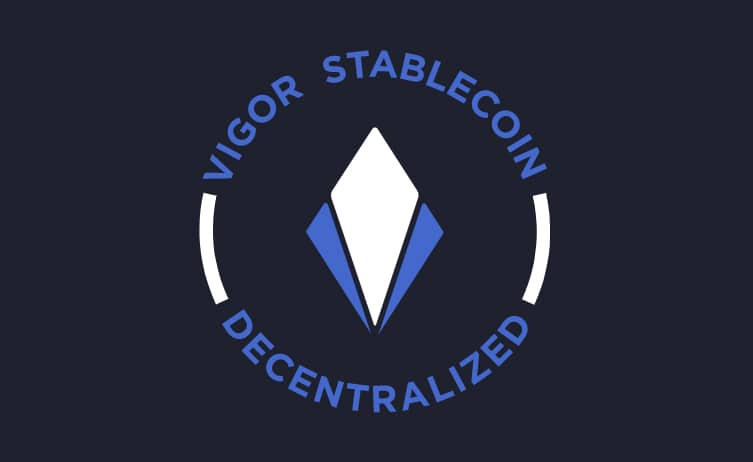 What Happened to Carbon Money (CUSD)?
If you are familiar with EOS stablecoins, you might be wondering why CUSD isn't featured. Carbon Money (CUSD) was the first stablecoin built on the EOS blockchain, but the team decided to abandon this part of the project in January 2020. With the end of CUSD, token holders were able to trade for USDT at a 1:1 ratio. CUSD market cap was reportedly only around $30,000, and most of the token supply was held by the company or its affiliates. The team is now focusing its attention on building an API for purchasing cryptocurrencies with American Express, Visa, MasterCard, and Apple Pay.

Please check out latest news, expert comments and industry insights from Coinspeaker's contributors.