Is XRP controlled by Ripple, and is it decentralized after all? Fintech expert and crypto enthusiast Konstantin Rabin sheds some light on the ongoing controversy around the world's third-largest cryptocurrency.
Ripple has been an issue of controversy among the crypto community for years now. The main thing people have a problem with appears to be the fact that the cryptocurrency XRP issued by the company isn't decentralized. In fact, it's entirely centralized, which, according to many runs contrary to the principles of cryptocurrencies and does not represent the vision of the cryptocurrency community.
While regular, decentralized cryptocurrencies have become amazingly popular over the last few years. Investors were flocking to the digital money trading industry to a degree, that FX companies had to offer incentives to increase the flow of new customers, a primary example of this is the XM no deposit bonus features which has been active for quite some time now.
This was done in order to at least partially counteract the effects of trading money being channeled into these other sources.
Indeed, Ripple does own a giant chunk of the entire supply of XRP tokens and is reliant on their cryptocurrency for financing its operating expenses and powering the company's cross-border pay products.
The Chief Technology Officer for Ripple David Schwartz disagrees with that assessment and is adamantly maintaining his position that the blockchain company is not a Machiavellian puppetmaster of the cryptocurrency.
Schwartz recently answered some questions on Quora regarding the issue. When asked whether XRP was under Ripple's control or not, he replied:
"Absolutely not. The XRP Ledger is open source technology with a robust community of developers, so if Ripple were to vanish, XRP and the XRP Ledger will remain."
Ripple Addresses Worries About Decentralization
Schwartz's arguments in defending his position have several good points to them:
First of all, XRP is mainly a payment tool, and can actually (theoretically at least) continue to do support payments with or without Ripple and its products.
Secondly, the token is not quite as centralized as some might think. In fact, Ripple runs no more than 10 validators out of over 150. The validators confirm and authenticate the operations that run through the XRP ledger.
And last, but not least, Schartz maintains that dumping the company's token supply into the market unexpectedly (which is one of the primary concerns people have regarding XRP) would hurt Ripple just as much as it would hurt XRP, therefore, it will never make sense for the company to do so. Besides, by the time 2017 ended, Ripple had earmarked some 55 billion XRP tokens to be transferred to an escrow wallet in order to address these concerns. In addition, Schwartz reminded people that the company has actually pledged to continue working on expanding its degree of decentralization in a gradual and calculated way.
Schwartz Isn't Convinced by IBM Partnering Up with Stellar
When being briefed about his position in regards to IBM and Stellar's recently announced partnership, Ripple's new CTO let it rip. Evidently, Schwartz believes that the partnership "misses the point completely".
The CTO elaborated on his stance by saying:
"IBM, SWIFT, and the rest of the old guard attempt innovation with blockchain but do not solve the centralization issue."
Schwartz means that with IBM being solely responsible for the approval on the Stellar validators, the centralization isn't being addressed. In fact, doing so allows the company control over the network, which Schwartz believes is not a good idea.
David Schwartz, who was actually one of the people who created XRP in the first place back in 2011, continued his criticisms by talking about other stablecoins with huge degrees of centralization. He said that a coin backed the US dollar simply does not have what it takes to be adopted at a massive-enough scale by consumers.
His concerns are obviously not shared by IBM, who not long ago gathered letters of intent from six reputable banking institutions saying they would use the Stellar network for developing their own coins and payment systems based on Stellar and XLM.
While Schwartz's comments might be interpreted as a competing company trying to discourage people from supporting its opponent in the market, his words do make sense for a lot of people who have previously expressed similar concerns on the topic.
Crypto Market is Booming amidst Stablecoin Controversies
Now that Bitcoin has finally broken through the resistance point that has plagued it for months and the abysmal bear market seems to be almost if not already over, people and supporters are understandably curious about what 2019 has in store for Ripple. XRP has been improving alongside Bitcoin and other tokens and is currently valued at over 15.2 billion dollars.
"Certainly there are a lot of bad ideas being built around cryptocurrency and it's possible the market is reflecting the recognition of this reality," Schwartz says.
The CTO also talked about the direct connection that seems to exist between the success of Bitcoin and the success of other cryptocurrencies. And really, Bitcoin seems to be the main plot point for many people when it comes to crypto. The market reacts to Bitcoin's price changes almost instantaneously.
* To learn more about XRP coin, Ripple Labs company and their innovative solutions, please check out our awesome "What is Ripple?" guide.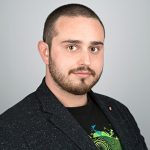 Author:

Konstantin Rabin
Konstantin has been working in the financial services industry since 2011. He is over-viewing various updates in the technology, regulation, and market movements. He's passionate about cryptos and all things financial.
Subscribe to our telegram channel.
Join