Bitcoin hit a new record, currently trading at $5,297.39, according to the CoinMarketCap's Bitcoin Index. It's the first time since September 2 when Bitcoin passed $5,000.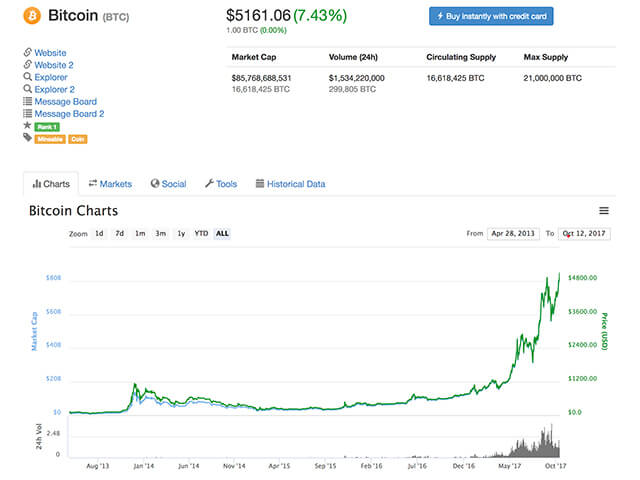 гш
The bitcoin price hit an all-time high of $5161.06 in early trade on Thursday, according to the CoinMarketCap's Bitcoin Index. This surpassed the previous high of $4,962.06 hit on September 2nd, 2017.
If we pass 5k, next possible resistance at 7k if we follow the same trend pattern #BTC #XBT #bitcoin $crypto #blockchain #moon #hodl pic.twitter.com/U8cZArrnaR

— Crypto Analysis (@CryptoAnaIysis) October 12, 2017
Yesterday statement of Mike Novogratz,  a legendary investor, former macro hedge fund manager at Fortress and current head of Galaxy Investment Partners,  are very likely after such  considerable Bitcoine increase.  He predicted that Bitcoin will jump to $10,000 in next six to ten months.
"I can hear the herd coming," he said during an appearance after market hours Tuesday on CNBC's "Fast Money." He named bitcoin to digital gold. "Blockchain will change the way we live," he said. "This is not going away. I'm pretty confident to say it's going higher. …It would not surprise if in the next six to 10 months we're over $10,000."
This summer Mr. Novogratz predicted that the cryptocurrency market can reach $5 trillion by 2022. "The Nasdaq got to $5.4 trillion in 1999, why couldn't it be as big? There's so much human capital and real money being poured into the space and we're at the takeoff point," he noted.
In September the famous investor unveiled his plans to launch $500M Galaxy Digital Asset Fund which is believed to become the largest, but not the first one – according to data from NEXT, a financial technology analytics company, there are at least 75 such crypto funds in business.
"This is going to be the largest bubble of our lifetimes. Prices are going to get way ahead of where they should be," he announced. But, in contrast with a majority of frightened investors, who see just volatility, he sees opportunity: "You can make a whole lot of money on the way up, and we plan on it. In a lot of ways, this is a market like any other market. You see the psychology of fear and greed in the charts the same way you'd see it in charts of the Indonesian rupiah or dollar-yen or Treasuries."
Mr. Novogratz in common with other analysts and investors underlines the necessity of strict regulatory base within the global cryptocurrency exchange market that can really turn it into a major financial market. As for now, many markets including Japan, China, South Korea, Australia, the Philippines, Singapore and Hong Kong among others have introduced necessary regulation to encourage people use digital currencies.
Probably, it is one of the reasons for today bitcoin price record.  Accepted regulation policy concerning  cryptocurrency market by the most developed countries reflects addoption of Bitcoin and other cryptocurrencies at the country level. It takes assurance to investors in further development of cryptocurrency market, continuing price growth and safety trading.
Another possible reason of bitcoin price increase is top position of Japan in total volume of the cryptocurrency traiding.According to Cryptocompare, Japan controls 59.77% of the global trading volume. Defenitely,  ban of ICOs by Chinese government in September was the main reason of trading increase in Japan.  Traders from China moved to neighboring cryptocurrency markets, most in Japan.
Moreover, cryptocurency policy of Japanese goverment could have only positive impact on Bitcoin price. The country was one of the first countries that declared bitcoin as a nationally legal currency.
In the beginning of October, Japan recognized eleven companies as registered cryptocurrency exchange operators granted Virtual Currency Exchange license to them.
Considerably growth of Bitcoin and other cryptocurrencies within recent years forces not only big investors but simple individuals to be involved in the cryptocurrency market. A man moved his family to a campsite after selling all his equity in order to buy cryptocurrency and grow rich after next "boom".