At a price of $288, BNB is now trading well below its All-Time High (ATH) and has so much upside potential in the coming year.
Dear readers, welcome to the 14th episode of the Coinspeaker Advent Calendar Series where we give you what to expect in the price and growth projections of some of the world's most dominant assets. Today, Binance Coin (BNB) is on our radar for 2023 as the coin occupies one of the most versatile crypto ecosystems in the Web 3.0 world.
Binance Coin is the native coin of both the Binance digital currency trading platform and the BNB Chain protocol. The coin is changing hands at $288.41 at the time of writing, according to data from CoinMarketCap. At this price, BNB sits comfortably as the fourth-largest digital currency at a market capitalization of $46.13 billion.
The coin has as much a good utility within the Binance ecosystem, one that has made it very relevant to hold for investors. Besides its use for accessing lower fees and discounts on the Binance exchange, BNB is also the staple digital currency being used by DApps in the BNB Chain ecosystem for fees.
By relevance, BNB ranks only next to Bitcoin (BTC) and Ethereum (ETH) and has become quite a dominant coin in most investors' portfolios. The digital currency pulled a stunning growth track when it grew from $41.7 dollars in January 2021 to a peak of $602 about 5 months later as seen by the map shown below.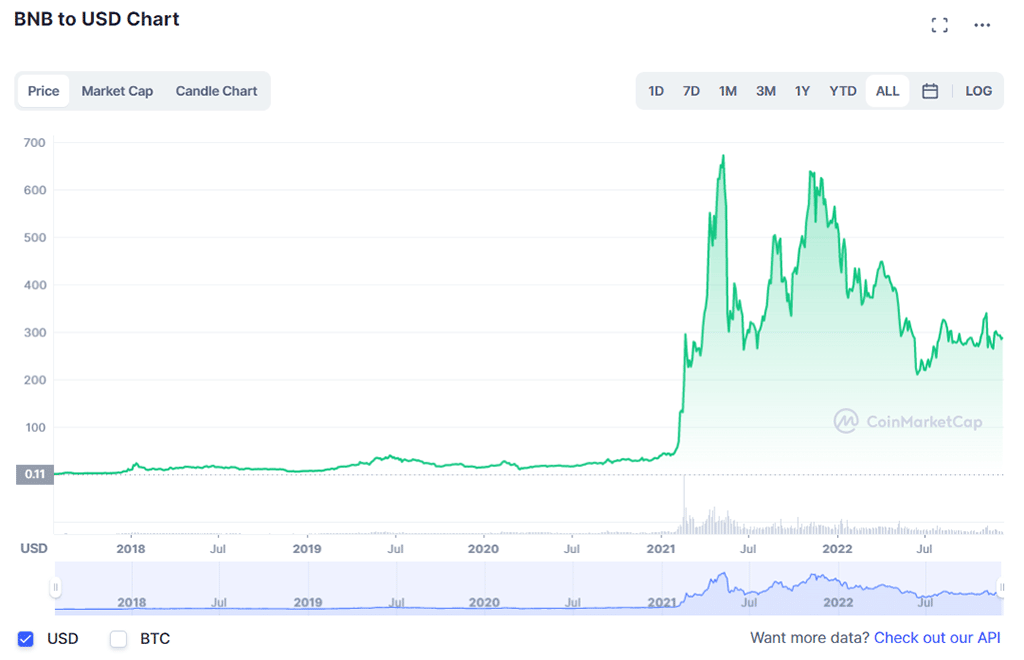 The coin has remained a high performer ever since, and though it has seen very bearish runs over the past year, it still remains a go-to coin for investors looking at the long term. Riding on the fact that the Binance Exchange remains the largest in the world, BNB has a cushion that has kept it afloat despite the ongoing crypto winter.
BNB Projections for 2023
At a price of $288, BNB is now trading well below its All-Time High (ATH) and has so much upside potential in the coming year. Notably, the cryptocurrency has dropped to a 52-week low of $184.54, implying that it has seen its worst days, and an upside momentum can be expected from this side onward.
The price projection for BNB is depicted below, covering the closing price for each month in the coming year:
January 2023: $295
February 2023: $303
March 2023: $290
April 2023: $300
May 2023: $310
June 2023: $320
July 2023: $326
August 2023: $315
September 2023: $310
October 2023: $330
November 2023: $338
December 2023:  $350
The upside potential that we see for BNB is such that it will still trade below $400 which is still relatively below the projected ATH. Binance Coin is a digital currency that is resilient, and it will serve as a viable investment opportunity for traders that are proficient in scalp trading. This is because the coin's volatility is kept in check by the trust and stability in its underlying ecosystem.
That's a wrap for today's episode, stay tuned as we bring you another high-flier digital currency tomorrow.