The December Exchange Volumes Report by the Blockchain Transparency Institute (BTI) is out. According to the report, just two of the top 25 cryptocurrency exchanges report accurate trade volume. The two are Binance and Bitfinex. The rest inflate their trade volume figures hence providing inaccurate information. This report confirms the long-term suspicion of wash trading among the exchanges.
The estimates show that this vice features 99% of the volume within 12 of the top 25 crypto pairings reported in the market. BTI points out that:
"Based on this data, over 80% of the CMC top 25 BTC pairs volume is wash traded. These exchanges continue to use these strategies as a business model to steal money from aspiring token projects"
Unlike previous reports, this one explores trading pairs that have suspicions of faked volumes and wash trading. Visible bot usage strategies also exist in some markets as highlighted by the report. OKEx, a leading Chinese exchange, engages in high levels of wash trading activities. Also, Huobi and Bithumb showed unworkable trading volumes.
Research Method
In the December 13 report, BTI supposedly created a new system of combined metrics. The system aimed at offering enhanced transparency for the entire crypto ecosystem. The methodology thrives on compiling data of unique daily visitor counts and order book liquidity. The aggregate information offers an accurate estimate of actual daily volume.
The institute also conducted researches on web traffic data websites. API and mobile app trading data also featured. The research focused on the data that was purportedly collected from exchanges and several mobile web analytics websites.
BTI explained that their research methodology keeps evolving significantly since August 2018. Their team strives relentlessly to offer accurate and transparent exchange ranking, and actual volume assessment tool.
Findings
The research revealed that only Binance and Bitfinex do not engage in wash trading. The misconduct comprises of market manipulation by investors. They create concurrent trades to develop fake and misleading activity in their marketplace. CoinMarketCap ranks Binance as 3rd-largest platform by 24-hour volume. Bitfinex exchange ranks at 21st place.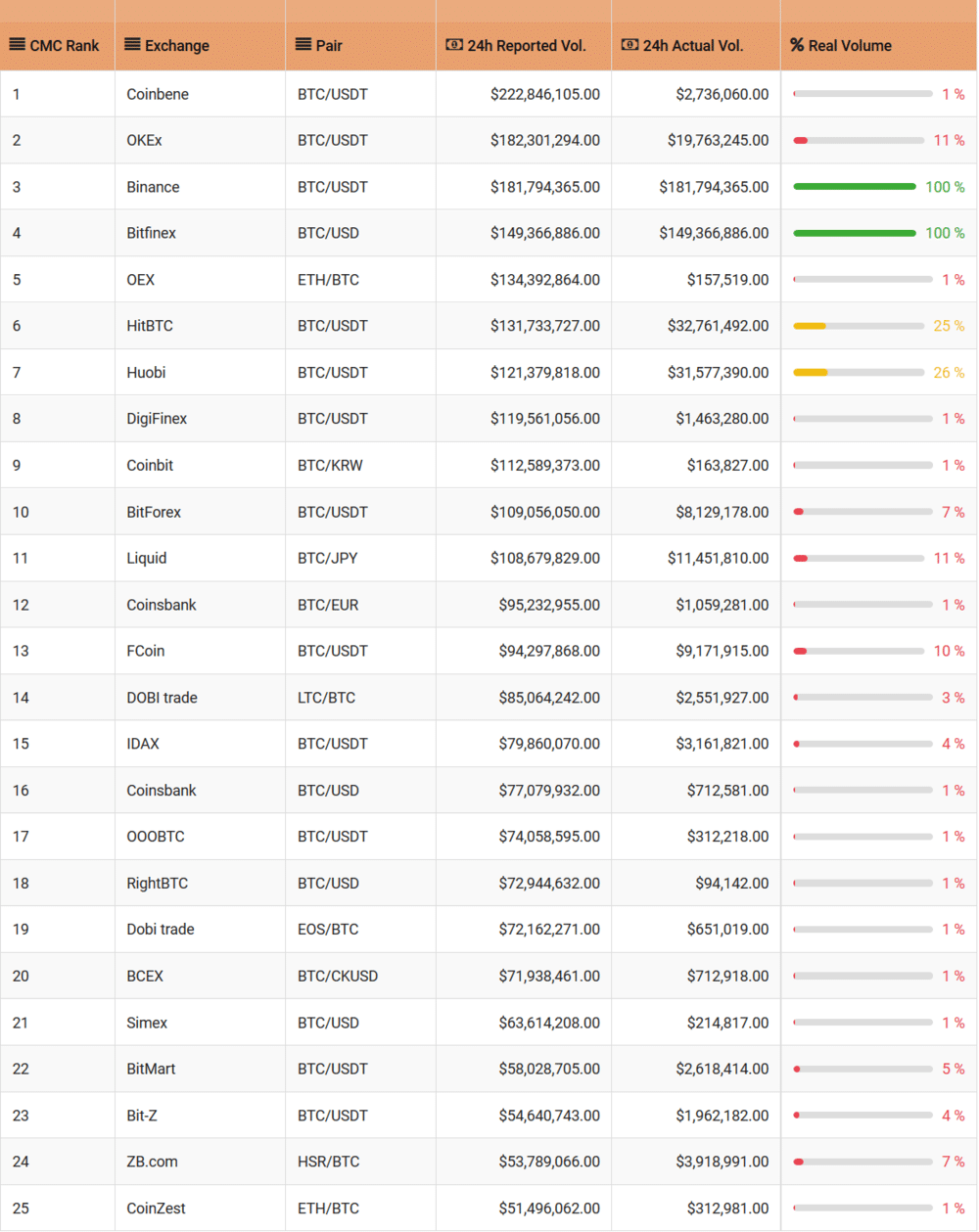 According to volume, BTI's report ranks Upbit as the third biggest exchange. Bizarrely, CoinMarketCap ranks the same platform as 39th on its trading platforms' list. The OKex platform was found engaging in wash trading for all its top 30 tokens on offer.
The report reveals that:
 "During this time, we have spent many hours analyzing volume data points, watching order books, and speaking with high-frequency traders, market makers, and trade surveillance consultants. We have collected a massive amount of data and we now feel confident to begin releasing these figures."
The Strategies Used
BTI alleges that four different bot strategies feature in the inflation of exchange volume numbers. These bots are strategically seta at different trading pairs subject to the time of day. The settings change depending on the prevailing volume trends and the hype around a particular cryptocurrency.
The report concludes by stating that only one of the top 20 exchanges should make it to the top 10 based on the reported volume.