Konstantin Rabin, fintech expert and crypto enthusiast, unveils what hides behind the trend of growing interest in crypto by private and public institutions, explaining what perspectives this could bring to the whole industry.
In the past year and a half, after the extreme growth and shrinking of the value of cryptocurrencies, there has been surface evidence of growing institutional interest in blockchain technologies and the general crypto industry.
This interest would first be identified with the help of large scale venture capitals, looking to diversify their portfolios by investing (on a large scale) in different cryptocurrencies and ICO stage crypto projects. This interest has been quickly followed up with governmental and state level regulation being applied to cryptocurrencies, either to legitimize it or to forbid it.
A New Trend
The trend of growing interest both by private and public institutions has produced some positive attitudes towards crypto but has had little effect on the value of the currencies. With taxation, control and sometimes prohibition are bringing some investors and miners to seize their investment activities and stop participating in the markets. Yet, people retain hope that this might only be a temporary thing. And they may be right.
It is no news that the Swedish branch of Gazprom Bank has expressed interest and made plans to invest in cryptocurrencies and start allowing their clients to diversify their investment portfolios with such. Though this is nothing than an expression of plans, which, while interesting to consider, is yet to be fully implemented and become true evidence of institutional interest.
The true evidence of interest in the cryptocurrencies lies with the fact that large scale corporations and institutions are looking into acquiring professionals in the industry.
West vs East?
It has been long believed that the interest of the Western world is scarcely directed to Bitcoin or crypto. Most of the cryptocurrency mining happens in China, after all. But a recent study might prove otherwise. A Glassdoor study, which is one of the most popular employment portals in the world, has shown that there are a little under 6000 jobs offered in the crypto industry, worldwide.
Most of these jobs are related to blockchain engineering, software development and so on. What is interesting is that most of the jobs being offered are located in the western hemisphere. Almost 50% of all the crypto related jobs are offered in the USA, followed by the United Kingdom, with about one-fifth of the jobs offered.
Jobs Jobs Jobs
What is even more indicative of the fact that the western world's interest is growing, is the fact that these blockchain engineer and software development professionals are being looked for by leading companies and large institutions.
Companies such as IBM, Ernst & Young and Oracle, which are major accounting and computer technology firms in the world, as well as others. The interest these companies are showing is very different from direct investment – they are looking for developers. This means that large institutions are looking not only to create portfolios but start participating in the industry by introducing new technologies, researching blockchain and possibly innovating.
This is a major step for the industry – interest like this is going to be legitimizing the industry and, conversely, increasing the trust of the general population. This can only have a positive effect on the industry as a whole, and might even be cause for the stability of cryptocurrencies across the board.
Though, we all should be cautious of our optimism as it relates to cryptocurrencies. You never know what might change and how fast, as it has been shown by the cryptocurrency industry for so many years.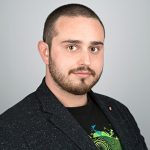 Author:

Konstantin Rabin
Konstantin has been working in the financial services industry since 2011. He is over-viewing various updates in the technology, regulation, and market movements. He's passionate about cryptos and all things financial.
Subscribe to our telegram channel.
Join